Explore Careers
|
Career Spotlight
Career Spotlight: Hawaiian Language and Hawaiian Studies
This career spotlight focuses on two unique academic undergraduate and graduate programs under the Hawai'inuiākea School of Hawaiian Knowledge: the Kamakakūokalani Center for Hawaiian Studies and the Kawaihuelani Center for Hawaiian Language. Hawai'inuiākea is the largest program in the world for the study of the vast body of Hawaiian knowledge and culture. Its mission is interdisciplinary as it aims to "pursue, perpetuate, research and revitalize all areas and forms of Hawaiian knowledge, including its language, origins, history, arts, sciences, literature, religion, education, law and society, political, medicinal, and cultural practices as well as all other forms of knowledge" (http://manoa.hawaii.edu/hshk/).

In support of this mission, the Hawaiian Language and Hawaiian Studies programs provide unique learning and experiential opportunities that empower students to develop a blend of knowledge, skills and abilities all of which are highly valued in a broad array of career areas and industries. Students shared their stories in the Student Voices tabs below providing insights into their personal journeys and after-graduation career plans. For more information about these programs, please visit http://manoa.hawaii.edu/hshk/

*We would like to thank the Hawai'inuiākea School of Hawaiian Knowledge for their collaborative support and expertise on this project.
1) What inspired you to decide to major in Hawaiian Language and/or Hawaiian Studies?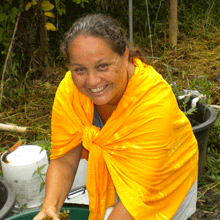 Leina'ala (Hawaiian Studies Graduate Student)
As a Native Hawaiian, practicing our cultural arts has always been my passion igniting a desire to immerse myself in Hawaiian Studies. I felt fortunate to be able to acquire a depth of knowledge concerning my culture, history and language at the Kamakūokalani Center for Hawaiian Studies.
Kapena (Hawaiian Studies Graduate Student)
I was born in Hawai'i, grew up in Southern California with my mom, but made annual winter and summer trips back home to visit my dad. Away from Hawai'i, I was raised with a strong awareness and appreciation that I am Hawaiian and that Hawai'i is my home. I have a Hawaiian first name which, reflecting on it now, I think instilled this constant subconscious awareness of my roots. Growing up, I was always eager to learn more about my culture and history. I remember turning any self-directed project in elementary, middle and high school into something about Hawai'i, allowing me to learn a little bit more and express my Hawaiian identity. After I graduated high school, I first went to Embry-Riddle Aeronautical university to study aerospace engineering because I loved airplanes and legos as a kid…and I still do now! But I quickly realized I don't want to spend the rest of my life in a cubical designing airplanes one super hard math and physics problem at a time. That wasn't for me! So I transferred to UH Mānoa to study art. I was really into ceramics and art history at the time. Not really knowing which classes to take, I decided to take Hawaiian Studies 107 and Hawaiian Language101 during my first semester since both of them fulfilled graduation requirements. After that, I was hooked…switched my major to Hawaiian Studies, and the rest is history.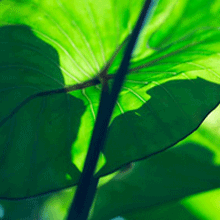 Pualei (Hawaiian Studies)
After interning with a native Hawaiian doctor in a health care facility on my home island, I was enlightened about different issues that concern the Hawaiian population. He would frequently share his knowledge about lā'au lapa'au (herbal medicine) and his involvement with the Protect Kaho'olawe 'Ohana. My interest in Hawaiian Studies and language became a (new) focal point, and I decided to switch from pre-med to Hawaiian Studies.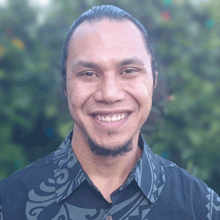 Kepo'o (Hawaiian Language and Hawaiian Studies)
Our kūpuna (ancestors) had a masterful understanding of their environment that enabled them to sustain the entire population of the Hawaiian Islands for over 1,200 generations. I decided to major in Hawaiian Studies in order to understand their holistic approach to managing our interactions with the environment. This perspective is important as we seek economically efficient and environmentally responsible methods of sustaining our modern population for generations to come.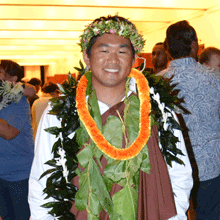 Ian (Hawaiian Studies)
Since I was a young boy I wanted to be a fighter pilot. I loved flying and the thought of going mach 2 in a fighter jet amazed me. Then one summer I took a summer course at Leeward Community College that changed my life. For this class we went to Hawai'i Island and spent one week visiting both cultural and scientific sites. On this trip, I had fallen in love with our Hawaiian culture and wanted to learn as much as I could. On that trip I borrowed a friend's laptop to change all of my courses to Hawaiian studies and Hawaiian language focused courses.
2) What valuable skills do you believe that your experience as a student in Hawaiian Language and/or Hawaiian Studies has helped you to cultivate and make use of the most?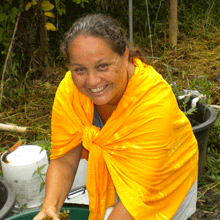 Leina'ala (Hawaiian Studies Graduate Student)
My experience in college as an undergraduate and graduate student has provided many areas of growth. The development and refinement of the following skills have proved to be valuable in my professional and personal life: critical thinking, leadership, communication both oral and written, community engagement, planning, organization, problem solving, and time management. The journey became a holistic experience enhancing my self-esteem and confidence as well.
Kapena (Hawaiian Studies Graduate Student)
One of the most valuable skills I learned as a student was primary source research, especially for researching our own genealogies. For me, that research was so powerful and life – changing. I began to make clearer and concrete sense of the hearsay genealogy from family members; uncover new stories and deepen my own understanding of my kuleana (role, responsibility) from the stories and legacies left by my kupuna. Another valuable skill for me was learning Hawaiian language. I wish early on that I took the language part seriously. Initially, I just wanted to fulfill my 101-102 and 201-202 requirements and be done with the language…but then, I started to get more exposure to primary source research, all the research gaps in Hawai'i's history, and even in my own family's genealogy because many do not have the language skill-set to dive into the many Hawaiian language respositories of information such as Hawaiian language newspapers. So, I began to take language more seriously and dream about ways I can help create more access points to this huge body of research, hence one of the reasons why I became a librarian.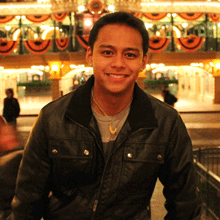 Jacob (Hawaiian Language)
I believe the two most valuable skills that I have acquired while learning the Hawaiian language is the ability to recall and memorize a vast amount of information, and the ability to do thorough research writing.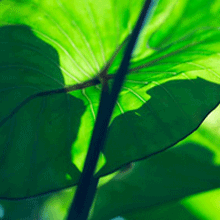 Pualei (Hawaiian Studies)
I believe that I have grown to be stronger, both emotionally and spiritually while learning about Hawai'i's past. These classes have not only taught me our history, but they have cultivated my understanding to better myself for the future of Hawai'i. I believe that this program has helped me to be less hilahila (ashamed) because I feel like I belong at Hawai'inuiākea, and therefore, I am more confident in myself. I have learned to better my time-management skills in order to complete all my tasks to the best of my abilities.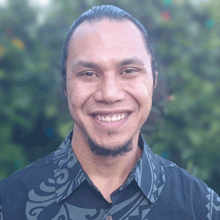 Kepo'o (Hawaiian Language and Hawaiian Studies)
With skills developed as a double major in Hawaiian Studies and Hawaiian language, I am able to effectively access and understand a greater range of archival resources than would be possible without an understanding of our native language and native ways of thinking. Utilizing a holistic perspective as that of our ancestors enables a multitude of pathways by which various archives may be queried and information gained. This makes me an effective researcher and problem solver.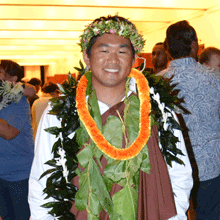 Ian (Hawaiian Studies)
Hawaiian Studies taught me to persevere when I feel overwhelmed. Hawaiian Studies is a very content heavy major with a lot of knowledge learned at a very fast pace. Many times I would find myself overwhelmed with the amount of work, however, the kumu (teachers) were so inspiring with the knowledge taught to me that I would be reminded of why I was majoring in Hawaiian Studies. I would be in class learning things about our kūpuna that would amaze and inspire me to persevere.
3) To what extent do you believe that courses in Hawaiian Language and/or Hawaiian Studies have helped you in your current role?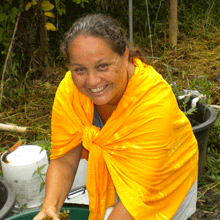 Leina'ala (Hawaiian Studies Graduate Student)
Hawaiian Studies specifically the mālama 'āina (caring for our land) and lā'au lapa'au (Hawaiian herbal medicine) courses helped to advance my skills and current role as a Hawaiian Health Practitioner and educator of lā'au lapa'au and mahi lā'au lapa'au (Hawaiian medicinal horticulture).
Kapena (Hawaiian Studies Graduate Student)
The biggest lesson that emerged for me during my time in Hawaiian Studies was gaining a deeper understanding of my own kuleana and a greater sense of purpose that I can listen to, pursue, and let manifest into whatever my kupuna have planned for me. It's a lifelong journey that the courses in Hawaiian Studies have helped me discover and navigate through. I also think Hawaiian Studies has given me a strong foundation of 'ike kupuna (knowledge of the past) that I can bring to the library, advocate for, and share with my colleagues who may not know. This helps us as a library to breathe life into what it means for us to be a Hawaiian place of learning and provide better support for our Hawaiian Studies and Hawaiian Language students.
4) What internships or extra-curricular activities have you pursued while in college have been the most valuable to you personally and professionally? Why?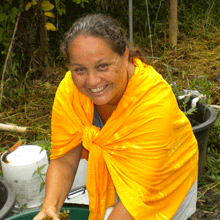 Leina'ala (Hawaiian Studies Graduate Student)
I integrated my research with the College of Tropical Agriculture and Human Resources (CTAHR) and Hawaiian Studies. My focus has been the propagation, conservation and accessibility of Hawaiian medicinal plants using different horticultural methods. With a foundation in Hawaiian Studies and lā'au lapa'au, it has been a very rewarding experience to further my knowledge with agricultural practices that contribute towards the conservation of our endangered medicinal plants.
Kapena (Hawaiian Studies Graduate Student)
When I was an undergraduate, the only volunteer work I did was working on a translation project called Huina. We would translate Hawaiian language newspaper pages for 10 hours a week for 4 weeks. This was a very valuable experience in that it gave me an opportunity to work more closely with a faculty member, other students, and with the newspapers. When I was a graduate student, I started to do more volunteer work and internships. I volunteered at the Hawaiian Historical Society where I got to work with their collection of Hawaiian language newspapers. I interned at the Bishop Museum Library and Archives where I processed about 160 Hawaiian language letters from the Edgar and Lucy Henriques Collections Department where I provided library references to help collection users find what they are looking for. These were all very valuable experiences that exposed me to different aspects of librarianship and the type of librarianship I want to pursue as a career.
5) What is the most important advice you feel you received before you entered the workforce?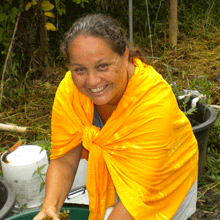 Leina'ala (Hawaiian Studies Graduate Student)
Spiritual advice from a special kumu (teacher/mentor) has helped me through many difficult times. I was told that we must always look back before moving forward, to remember to look to our ancestors for answers to life's many challenges we face today, and to be aware of their teachings through dreams, prayer, aloha and flashes of inspiration. It is through prayer that we have the ability to personify our kūpuna, consciously opening a pathway giving life to their knowledge and wisdom in today's world.
Kapena (Hawaiian Studies Graduate Student)
Some of the best advice I learned that has led me to where I am today and continues to sustain and recharge my batteries are:
"Follow your passion and do your best." (Mom)
"Your thoughts create your experiences." (Ms. Lopes)
"Have fun, get dirty, and learn." (Ms. Lopes)
"Be boldly indigenous."(Dean Maenette Benham)
"Our kūpuna, our elders who have passed on, are standing there underneath our feet, holding us up because they know we can do that work. They know that because they made the place for us to do it. They are there in our DNA, in our blood. So I want you guys to know that. I want you to know that's a powerful thing…that it's a powerful set of shoulders you stand on." (Dean Maenette Benham)
6) What advice do you have for students who are still in college?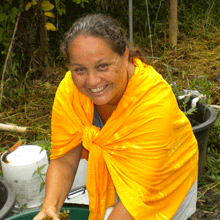 Leina'ala (Hawaiian Studies Graduate Student)
Explore your interests, find your passion if you have not discovered it yet. The undergraduate experience is about broadening your knowledge as well as refining it. Do not underestimate your abilities. Step forward with confidence, vigilance and perseverance.
Kapena (Hawaiian Studies Graduate Student)
The most important advice I have for students is to follow your passion and listen to na'au….let your gut instincts guide you. Once you commit to yourself, your passion, and the path your kupuna want to take you on…then surrender, and let that force and energy push you forward and sustain you as you work hard and do your very best in whatever you choose to pursue. Also get involved with faculty and their research projects. Some of the best learning I've ever had was working with faculty on special research projects like the newspaper translation project.
7) What are some "optional" elements of the undergraduate experience that you recommend students in Hawaiian Language/Hawaiian Studies explore?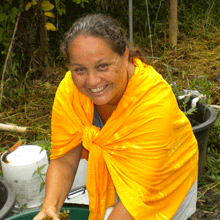 Leina'ala (Hawaiian Studies Graduate Student)
Community engagement has played an extremely important role in my undergraduate experience. Taking advantage of the opportunities offered through your classes, professors, bridge programs, internships, community service, mālama 'āina programs, and other avenues are all valuable experiences that are enriching, fulfilling and possibly life changing.
Kapena (Hawaiian Studies Graduate Student)
Strengthen the presence of Hawaiian Studies and Hawaiian Language on campus by getting involved. Build relationships with our classmates, attend campus-wide events, and consider stepping into undergraduate leadership positions like ASUH.
8) What do you believe are the most important projects you have participated in through your Hawaiian Language and/or Hawaiian Studies classes? Why was it important to you?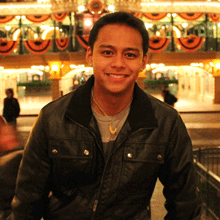 Jacob (Hawaiian Language)
The most vital assignments that I've done in any of my Hawaiian language classes are projects not directly related to the actual meaning of the language. Those assignments force us to apply our acquired language skills in research, discussion and essay writing, all as a form of communication. That is how the Hawaiian language can stand as proof of a living language. Nā Politika ma ka Nūhou Hawai'i is a perfect example. Teaching, discussing, researching and writing about Hawai'i's politics all through the Hawaiian language is indeed a sign that he 'ōlelo ola ka 'ōlelo Hawai'i (Hawaiian language is the language of life).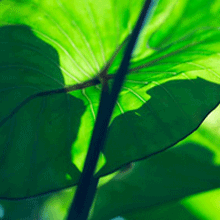 Pualei (Hawaiian Studies)
In my Papa Mahi'ai Kalo (class), we had to make a papa (board) and a pōhaku ku'i'ai (poi pounder). This was my most stressful project between all my classes because of it's significance. Not only do we prepare food with these tools, it is a connection that I will have to my kūpuna. This project was important because it challenged my patience and determination.
Another difficult project that I took part in was in my Post-Contact Chief's class. We were encouraged to engage in group projects in which we would have to present all the information we learned in an artistic format. This class tested not only my team-work skills but my creativity as well.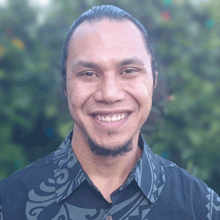 Kepo'o (Hawaiian Language and Hawaiian Studies)
Participating in the Kohala Field School during summer 2014 was extremely valuable in integrating the various skills and knowledge systems that I have developed throughout my educational career. An understanding of the Hawaiian language allowed me to translate Hawaiian language source documents in order to extract data detailing the historical use of the land there. This historical data, along with perspectives gained in traditional Hawaiian land management as well as Western science, helped to inform potential uses of these resources by present and future generations.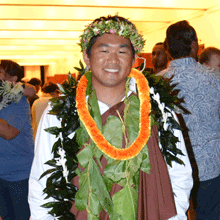 Ian (Hawaiian Studies)
The most important project I have become involved with through Hawaiian Studies is voyaging. I took Hawaiian Studies 281 "Hawaiian Astronomy" and learned about traditional Polynesian seafaring and navigation. I have since dedicated my time to the Polynesian Voyaging Society and have become a crew member. I will be participating in the Mālama Honua Worldwide Voyage.
9) How do you plan to use the skills and experiences you have gained towards your career or educational goals after you graduate?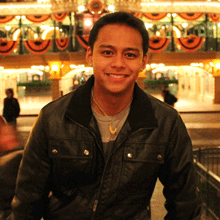 Jacob (Hawaiian Language)
I believe learning Hawaiian language has instilled certain "Hawaiian" values. These values are arguably a huge contradiction to those values that are advocated within my second major, Business Administration. What I want to do after I graduate is to fuse the two very different perspectives to become a Hawaiian businessman…who is able to interact on a professional level with various people, but be steadfast and knowledgeable in his own culture and language.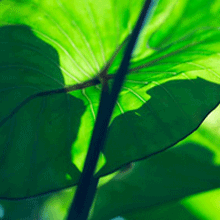 Pualei (Hawaiian Studies)
With these skills that I have gained from Hawai'inuiākea, I plan to lead the community with my knowledge through education and teaching at the primary level.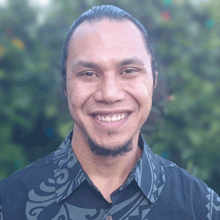 Kepo'o (Hawaiian Language and Hawaiian Studies)
I am applying to the Masters of Arts Program in Hawaiian Studies to further develop my research into land resources and management. This is a career in which I hope to contribute to continued reconnection between people, place and history to encourage a healthy and sustainable economy and society. As I continue to develop my research, I will have a better idea of which school I will pursue my doctoral degree in.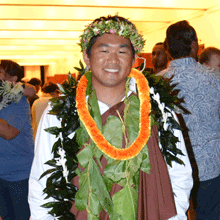 Ian (Hawaiian Studies)
In life there are always going to be ups and downs, but we all have to remember to keep pushing forward and become the best people we can be even when life gets hard. I will try to remember this as I go through graduate school in Hawaiian Studies and on to teaching.
10) What advice do you have for other students who may be interested in majoring in Hawaiian Language and/or Hawaiian Studies?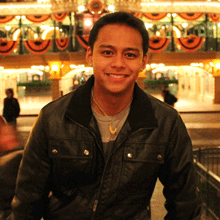 Jacob (Hawaiian Language)
Waiho ka hilahila ma ka hale (Don't be ashamed)…the best second language speakers I know were those who were not afraid to make mistakes. It is ok to say the wrong, and it is ok not to know the entire dictionary. O ka mea nui ka hō'a'o - what is important is trying.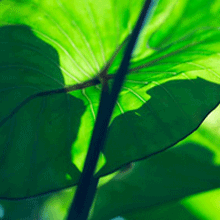 Pualei (Hawaiian Studies)
To those who may be interested in majoring in Hawaiian Studies, I would say, DO IT! Though it may be difficult at first, the amount of knowledge you gain by the end of one semester is priceless.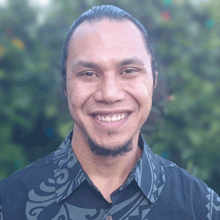 Kepo'o (Hawaiian Language and Hawaiian Studies)
Find something that you are passionate about and pursue it. The skills gained from a Hawaiian Studies degree are directly applicable to any profession that you can think of. Find out where and how you want to apply these skills and develop a close working relationship with your professors in order to develop your ideas. It may sound cliché, but anything really is possible. No dream is too big if you know how to develop the gradual steps that will allow you to reach your goal.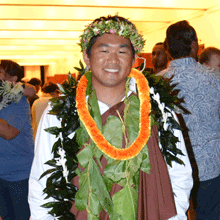 Ian (Hawaiian Studies)
Do not take a course load that is so big that you do not get to enjoy the things learned at this school. This school has so much knowledge to be taught and it is very difficult to learn it all at one time. You will meet amazing people while in Hawaiian Studies - both students and instructors. Get to know them and some of them may become life-long friends.
11) Do you have any tips for Hawaiian Language and/or Hawaiian Studies graduates who are entering the workforce?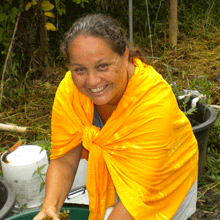 Leina'ala (Hawaiian Studies Graduate Student)
Open the doors and step through them. Don't limit yourself. You will never know what you may miss if you don't step out of your comfort zone. You have already demonstrated that you have the dedication and fortitude required to complete a degree. Be creative, diligent and holo i mua (go forward)!
Kapena (Hawaiian Studies Graduate Student)
Just remember you have a unique skill set, you are valuable, and you are worth it. If it doesn't work out, it is not meant to be. My really good friend gave this advice to me when I was applying for the job I currently have. She said, "focus, allow your best self to shine, then surrender. In the end, all that happens is meant to be." With that, I'll end. Thank you for allowing my soapbox and come visit me at the library.
Need help linking your major to your career?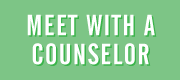 Got an idea for the next Career Spotlight?
Contact Us