Events
Student Employee of the Year
For thirty seven years, the Student Employee of the Year (SEOTY) Program has recognized numerous student employees at the University of Hawai'i at Mānoa (UHM). Student employees meeting the eligibility criteria for the SEOTY Award may be nominated by their UH employer for the individual recognition and Student Teams may be nominated for the SEOTY Team Award.
Reservations are not open at this time. But save the date for Tuesday, April 25, 2023!
How SEOTY at UH Mānoa Works
Individual Nominees are separated into two categories based on their student classification: Undergraduate and Graduate.
A selection committee composed of volunteers representing the UH Mānoa community then reviews the nominations in an anonymous selection process and will select their top two undergraduate students and top two Graduate students. The four will be whittled down to the top undergraduate and top Graduate student employee. Then one student will be named the Student Employee of the Year for the University of Hawaii at Mānoa.
Student Employee of the Year Scholarship Awards
Undergraduate Finalist - $500
Graduate Finalist - $500
Runner Up - $750
Student Employee of the Year Winner – $1000.
Student Employee of the Year Team Award
UH Mānoa also recognizes student employee teams. Nominated teams are also reviewed by the selection committee in a blind selection process. The winning team receives an award plaque and a prize package presented to them at the Annual SEOTY Reception, as well as being added to the SEOTY Team perpetual trophy.
Craft Fair & Silent Auction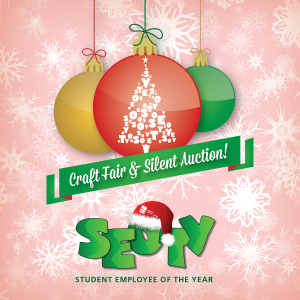 The awards and scholarships are made possible by donations and proceeds from the Annual SEOTY Craft Fair & Silent Auction.
If you would like to support the program, please visit the SEOTY Craft Fair & Silent Auction page for more information, donation forms, and vendor applications.
Still have questions about SEOTY? Send an email to careersd@hawaii.edu