Events
2021 Virtual Graduate & Law Schools Fairs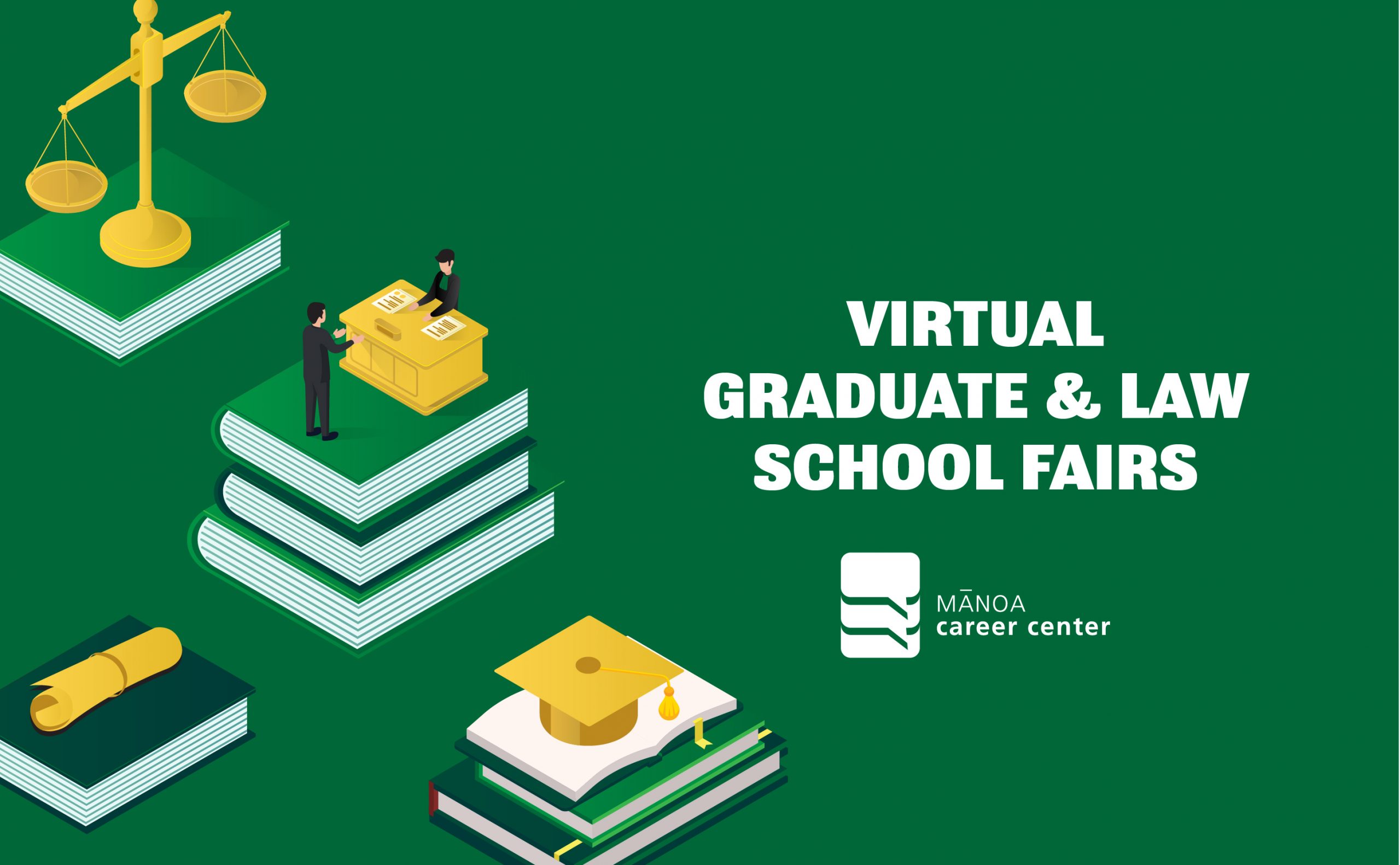 Thinking about graduate or law school? Join the Mānoa Career Center for our Virtual Graduate and Law Schools Fairs to gather information from representatives regarding admissions, program highlights and financial aid.
The virtual fairs will be a hybrid of educational panel discussions and virtual booths. The fairs will give UH Mānoa students the opportunity to connect with various graduate programs and law schools within UH Mānoa and throughout the country!
Graduate Schools Fair Tuesday, November 16, 2021 9:00 – 12:00 (HST)
Law Schools Fair Wednesday, November 17, 2021 9:00 – 12:00 (HST)
Request to Participate Forms coming soon!
Take a look at the 2020 Law Schools Fair Panel and Information
Take a look at the 2020 Graduate Schools Fair Panel and Information
Reasons to attend a graduate and/or law schools fair
If you are thinking about applying to a graduate or law school, attending a fair is an excellent way to get started.  Here are some of the perks.
You will have an opportunity to interact with admissions officers and representatives from graduate and law programs.
You will gain valuable information to help you decide on a program.
You will build connections and gain helpful advice on the application process.
Quick tips to prepare for a graduate and/or law schools fair
Review the list of schools and programs.
Develop questions* to ask representatives about their programs to determine how your interests and goals match with the program.
Prepare responses to questions you may be asked.
Prepare business casual or aloha attire.
Familiarize yourself with the virtual platform (Zoom, etc.).
Update your resume, portfolio, LinkedIn profile as a means of connecting and keeping in touch with representatives.
*Sample questions to ask school/program representatives
What types of academic degrees and research specialties does this program offer?
What types of fellowships, assistantships, scholarships or other financial aid are available?
What GPA, undergraduate coursework and test scores are recommended for admission?
What types of courses are offered and will they fulfill my career goals?
Where are most graduates employed?
What areas of law (or other field) do most graduates practice?
What types of resources are available on campus and in the community to support my research and career goals?
What types of student organizations and campus resources are available?
More resources to prepare
Refer to Make the Most of a Virtual Graduate-Professional Schools Event handout for tips.
For more questions and answers, visit our Graduate & Law School Fairs FAQ's page!
Other Graduate School Fair Resource Handouts
Meet with a career counselor for personalized assistance to prepare for the Virtual Graduate/Law Schools Fair, and to review your application materials.  E-mail us at careers@hawaii.edu to set up your virtual career counseling appointment.
Graduate Programs at 2020 Virtual Fair
List of participating schools or programs coming soon.
Law Schools at 2020 Virtual Fair
Contact us if you have any questions.