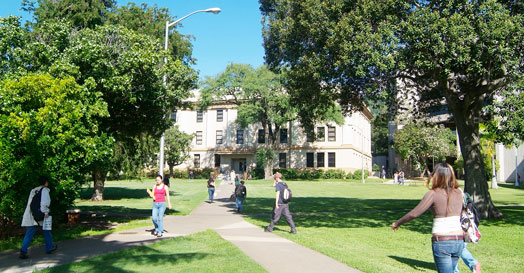 Safety
At UH Mānoa, your safety is a top priority. Department of Public Safety (DPS) officers patrol the campus 24 hours a day by vehicle and bike and on foot.
Safety escorts are available after dark, and 68 Emergency Call Boxes are located throughout campus for your safety and protection.
Emergency Procedures
To report an emergency:
Dial 911 for the Honolulu Police Department
Dial 956-6911 for the Department of Public Safety
Pick up one of the on-campus Emergency Call Boxes to talk to a dispatcher
Emergency Information
In the event of an emergency on campus, the Emergency Information page provides information about the nature of the incident, how to remain safe, and when status has returned to normal.
Emergency information is also available by phone at 808-956-0001.
UH Alert Emergency Notification System
The UH Alert emergency notification system provides notifications to the university community in the event of an emergency. Alerts are sent to all hawaii.edu email addresses and can also be sent via text message to student, faculty, and staff cell phones. Sign up for UH Alert (UH System).
Campus Safety
The Department of Public Safety provides a number of services to the community. For additional information on the services listed below, visit the Department of Public Safety website.
Anonymous Reporting
If you have information about a crime, let the Department of Public Safety know with this online form.
Emergency Call Boxes
There are 68 Emergency Call Boxes located throughout campus. In case of an emergency, these call boxes connect you directly to the DPS dispatcher. To activate the call box, simply pick up the handset. DPS will immediately identify your location even if you are unable to communicate verbally with the dispatcher.
Escort Service
The Department of Public Safety provides transportation or a walking escort from dusk to dawn for anyone walking alone on campus at night. Call 956-SAFE(7233) to request an escort. The escort will either accompany you on foot or transport you in a Campus Safety vehicle to any UH Mānoa parking lot or facility.
Mānoa Guardian
The Mānoa Guardian app for smartphones is designed to allow users quick and easy contact with DPS officers, and has additional features for increasing safety on campus. Using Mānoa Guardian, you can set a Safety Timer session, place a call to UH Mānoa Department of Public Safety, or send a tip to the UH Mānoa Department of Public Safety.
Title IX
Title IX of the Education Amendments of 1972 ("Title IX") is a federal civil rights law that prohibits discrimination on the basis of sex in federally funded education programs and activities. All public and private elementary and secondary schools, school districts, colleges, and universities receiving any federal financial assistance must comply with Title IX. Visit Title IX at UH Manoa for more information.
Other Safety Resources
The UH Mānoa Emergency Management Program provides procedures for responding to major emergencies that may threaten the health and safety of the campus community or disrupt scheduled programs and activities.
The Environmental Health & Safety Office provides students, faculty, and staff with information and training on how to stay safe and healthy on campus