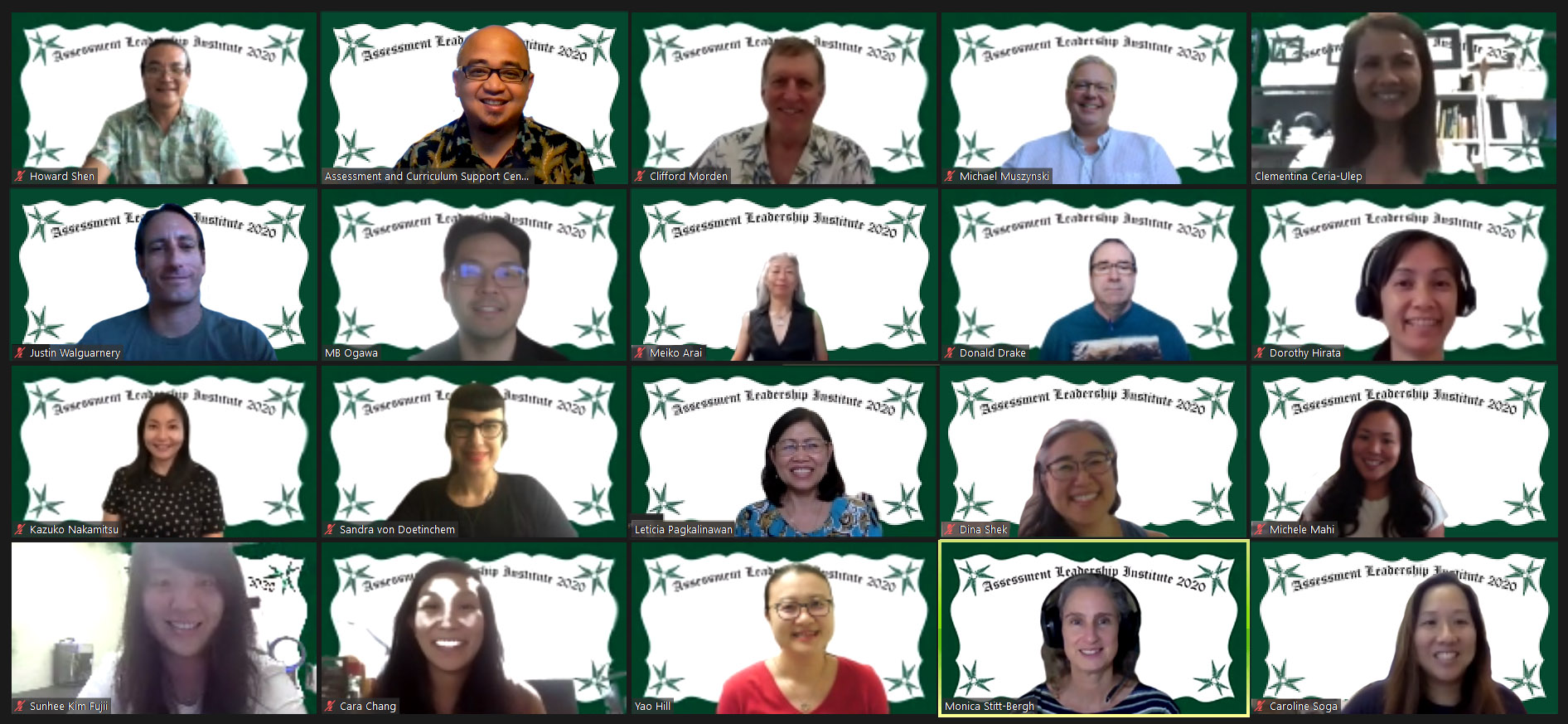 We have successfully completed our eighth Assessment Leadership Institute, August 11 to 14, 2020. We transformed the in-person training to 100% online for the first time. See our sample agenda here. Our 17 participants were from 12 departments and four higher education institutions in Hawai'i: University of Hawai'i at Mānoa, Honolulu Community College, Leeward Community College, and Chaminade University of Honolulu. The highly interactive sessions aimed to train collaborative and facilitative leaders to coordinate program-level learning assessment received overwhelmingly positive evaluation results.
One hundred percent reported the online ALI worthwhile and would recommend to colleagues. One respondent said that "[t]his was one of the most productive four days of my recent career." and another said, "[t]he institute was 'action packed' and provided a good amount of information, practice and application to your institution. This brought the learning to life…" In addition, 100% of the participants developed and presented feasible assessment project plans that demonstrated knowledge of assessment concepts and recognition of assessment as a collaborative, faculty process aimed at improvement of student learning.
We thank our Assessment Leadership Fellows (ALFs) for coaching our ALI participants and their commitment to assist participants:
Dr. Jon-Paul Bingham, Associate Professor, Molecular Biosciences and Bioengineering, UH Mānoa
Dr. Cari Ryan, Assessment Coordinator, General Education Office, UH Mānoa
Dr. Julie Walsh, Curriculum Specialist, Pacific Islands Studies, UH Mānoa
Dr. Eunice Brekke, Associate Professor, Sociology, Leeward Community College
We look forward to continuing to work with our participants and ALFs to advance curriculum quality and coherence through the tools of assessment.