Roads Less Taken: Emiko Saraswati Susilo
Online Talk with Emiko Saraswati Susilo UHM alumna and Cultural Consultant for Raya and the Last Dragon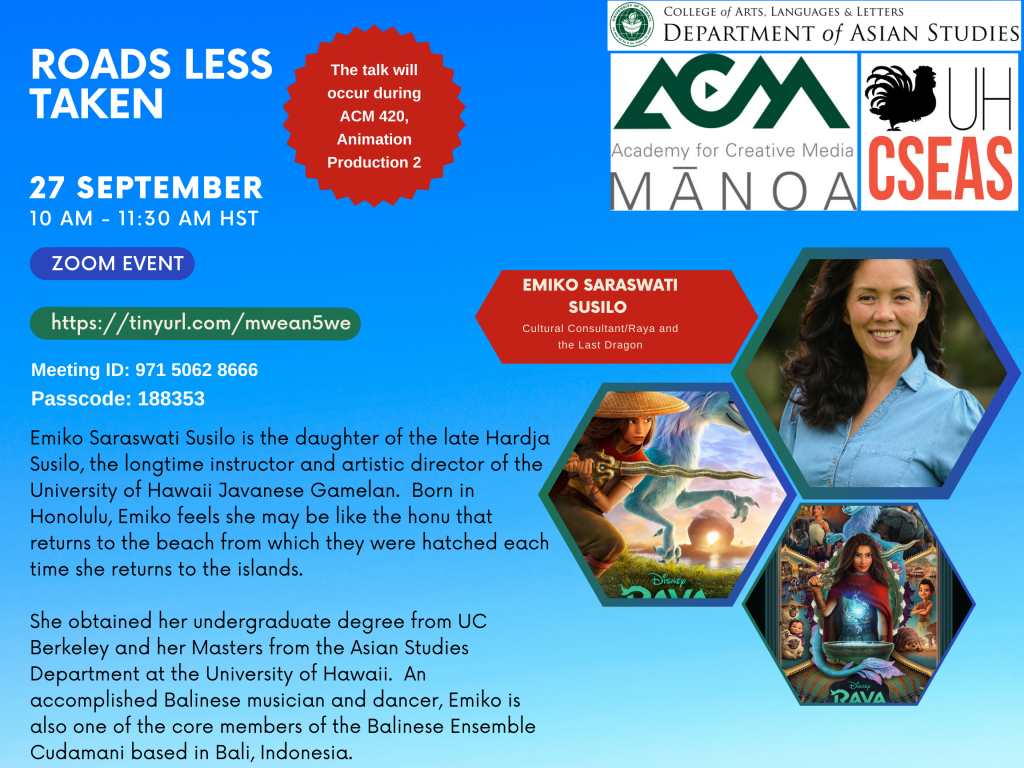 Curious about animation and using your degree for cultural consulting? Join us September 27, 2022 at 10:00-11:30am (HST) for a talk with Emiko Saraswati Susilo for her experience working with Disney's animated feature film Raya and the Last Dragon. The talk will occur during the class Animation Production 2 (ACM 420) though you do not need to be enrolled in the class to join. Thank you to the the Academy for Creative Media Manoa, the Center for Southeast Asian Studies, and the Department of Asian Studies for making this event possible.
Join us on Zoom: https://tinyurl.com/mwean5we
Meeting ID: 971 5062 8666
Passcode: 188353
About the Speaker
Emiko Saraswati Susilo is the daughter of the late Hardja Susilo, the longtime instructor and artistic director of the University of Hawaii Javanese Gamelan. In addition to other creative works, Emiko Susilo has done extensive voice acting including narrative, eLearning, and character roles. Born in Honolulu, she feels she may be like the honu that returns to the beach from which they were hatched each time she returns to the islands. Susilo says, "one of my life goals is forging paths to open opportunities for young women and underserved youth to have access to the arts and creative expression in Bali, Indonesia, Southeast Asia and the US!" She obtained her undergraduate degree from UC Berkeley and her Masters from the Asian Studies Department at the University of Hawai'i. An accomplished Balinese musician and dancer, Emiko Saraswati Susilo is also one of the core members of the Balinese Ensemble Cudamani based in Bali, Indonesia. Visit her website to learn more information.