Fall 2021 Graduate Courses
Enroll in our master's level classes this upcoming semester!
Want to learn more about historical and contemporary issues in Asia? Looking to gain research and practical skills to further your career? The Asian Studies Department at the University of Hawaiʻi at Mānoa will be offering a mix of online and in-person graduate-level courses to fit your interests and needs. Whether you want to learn about a specific country or the Asian region as a whole, the Asian Studies Department has a course for you.
If you are interested in enrolling in our Master's in Asian Studies (MAAS), Master's in Asian International Affairs (MAIA), or Graduate Certificate programs, visit our graduate degree programs webpage.
Be sure to take a look at the official course listing for full details of all undergraduate and graduate courses.
Fall 2021 Graduate Courses
ASAN 600C: Approaches: China.
In-person; Prof. Harwit. (This seminar provides an interdisciplinary overview of the current state of Chinese Studies. Students will develop expertise in broad-based content knowledge, discipline-based methodological approaches, and available resources to support study and research in the China field.)
ASAN 600J: Approaches: Japan.
In-person or Online Synchronous; Prof. Carlile. (Major issues in and approaches to the interdisciplinary study of Asia and Asian regions; resources for the advanced study of Asia at UH; developing a research focus; preparing and presenting research proposals. (J) Japan.)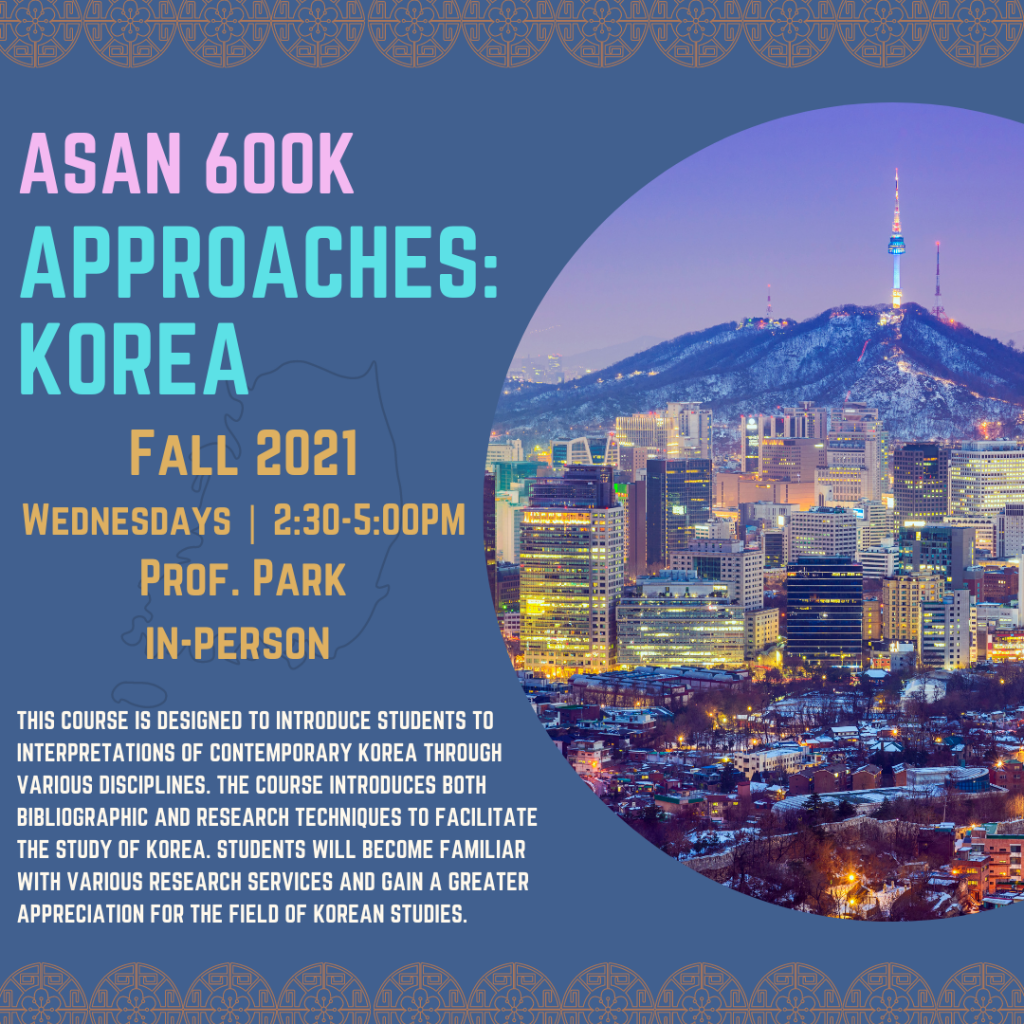 ASAN 600K: Approaches: Korea.
In-person; Prof. Park.
(This course is designed to introduce students to interpretations of contemporary Korea and introduces both bibliographic and research techniques to facilitate the study of Korea. Students will become familiar with various research services and gain a greater appreciation for the field of Korean Studies.)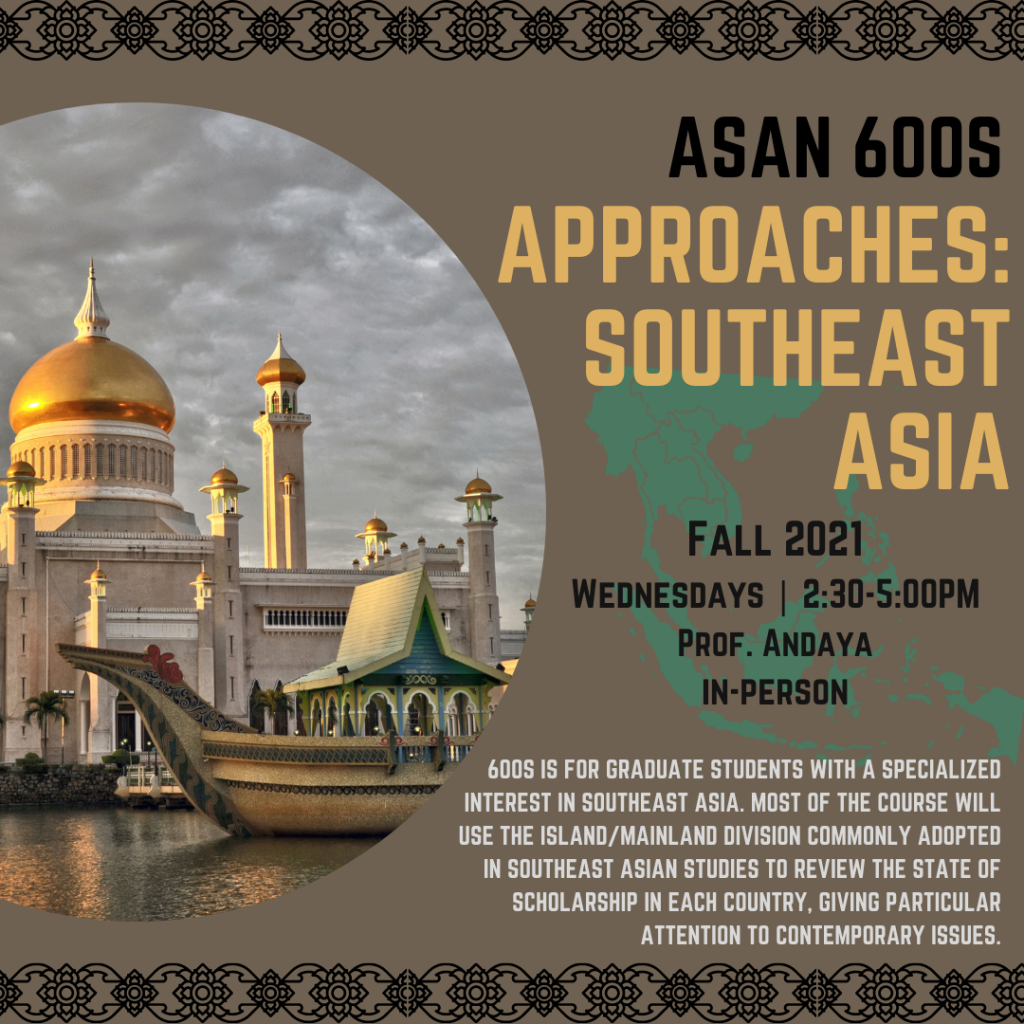 ASAN 600S: Approaches: Southeast Asia.
In-person; Prof. Andaya. (This course is for graduate students with a specialized interest in Southeast Asia. Most of the course will use the island/mainland division commonly adopted in Southeast Asian studies to review the state of scholarship in each country, giving particular attention to contemporary issues.)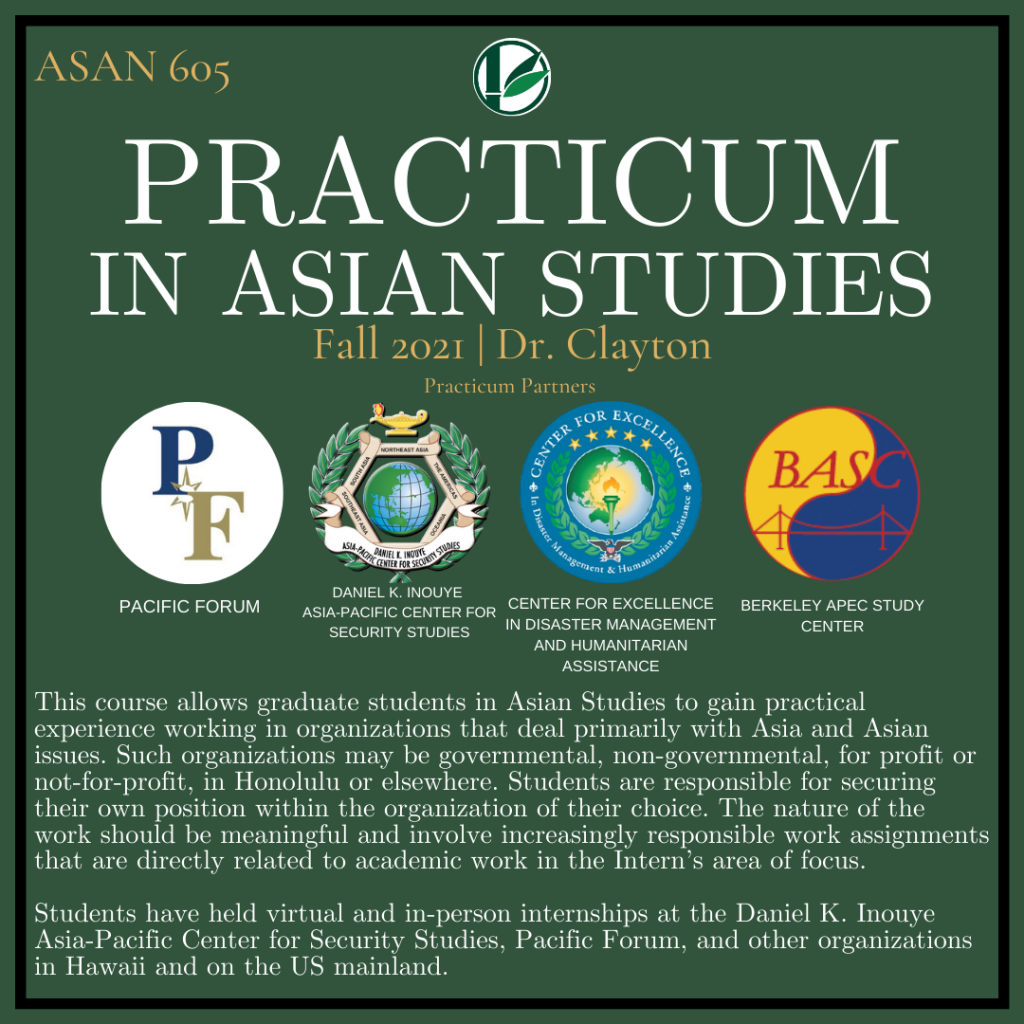 ASAN 605: Practicum in Asian Studies.
Prof. Clayton.
(This course allows graduate students in Asian Studies to gain practical experience working in organizations that deal primarily with Asia and Asian issues. Students are responsible for securing their own position within the organization of their choice. The nature of the work should be meaningful and involve increasingly responsible work assignments that are directly related to academic work in the Intern's area of focus. )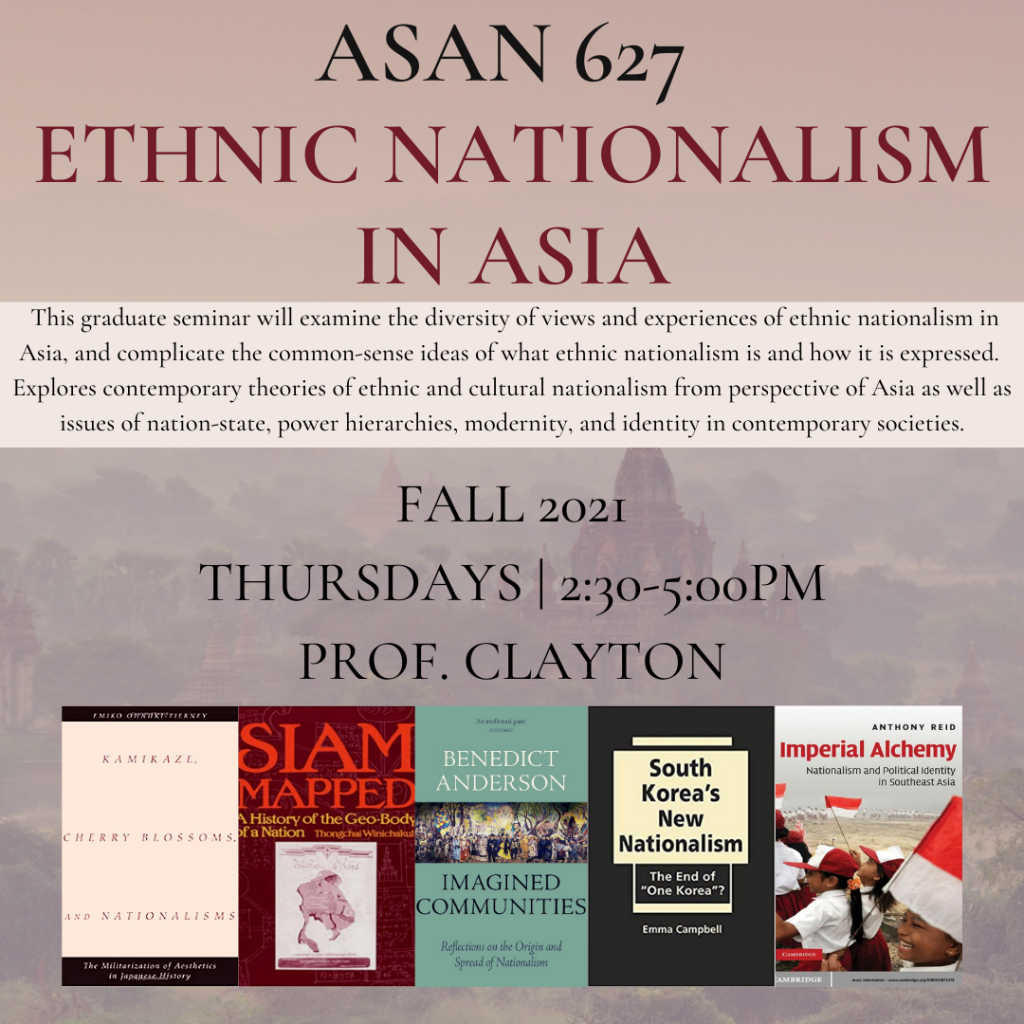 ASAN 627: Ethnic Nationalism in Asia.
In-person or Online Synchronous; Prof. Clayton. (Contemporary theories of ethnic and cultural nationalism from perspective of Asia. Issues of nation-state, power hierarchies, modernity, and identity in contemporary societies.)
ASAN 629: Asian Security Cultures. Online Synchronous; Prof. Carlile. Comparative study of conceptualizations, practices, and institutions of national security in Asia in light of their geographic and historic context.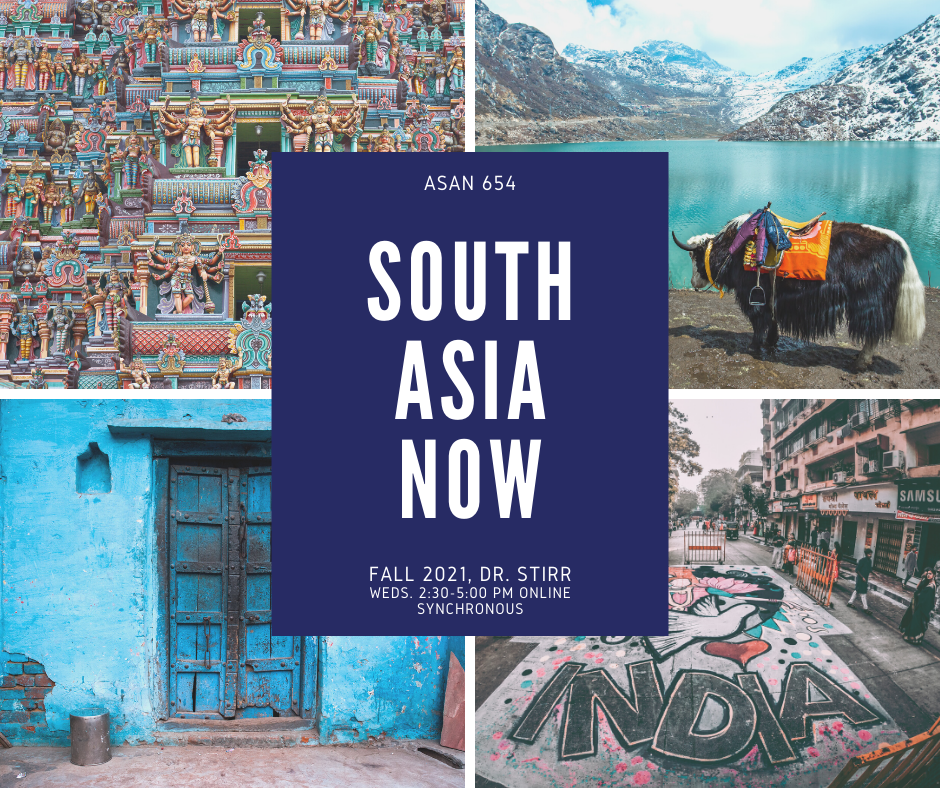 ASAN 654: South Asia Now.
Online synchronous; Prof. Stirr. (Views South Asia as an interactive region. Examines common historical and cultural, economic, and political themes, including global interactions. Focus upon present state of the region.)
ASAN 689: International Relations of Asia.
Online Synchronous; Prof. Govella.
(How well do international relations theories explain interstate relations in Asia? How do international issues interact with domestic politics? Covers Japan, China, Korea, ASEAN nations, India, and touches on Russia, Australia, and New Zealand.)
ASAN 710: MAIA Capstone.
Prof. Clayton. (Capstone experience for MAIA students that emphasizes practical applications of Asia knowledge. Develop an Asia-related project necessary for career goals, or work with a professional partner to address a well-defined, real-world problem.)
Be sure to take a look at our undergraduate courses as well. See you in the fall!