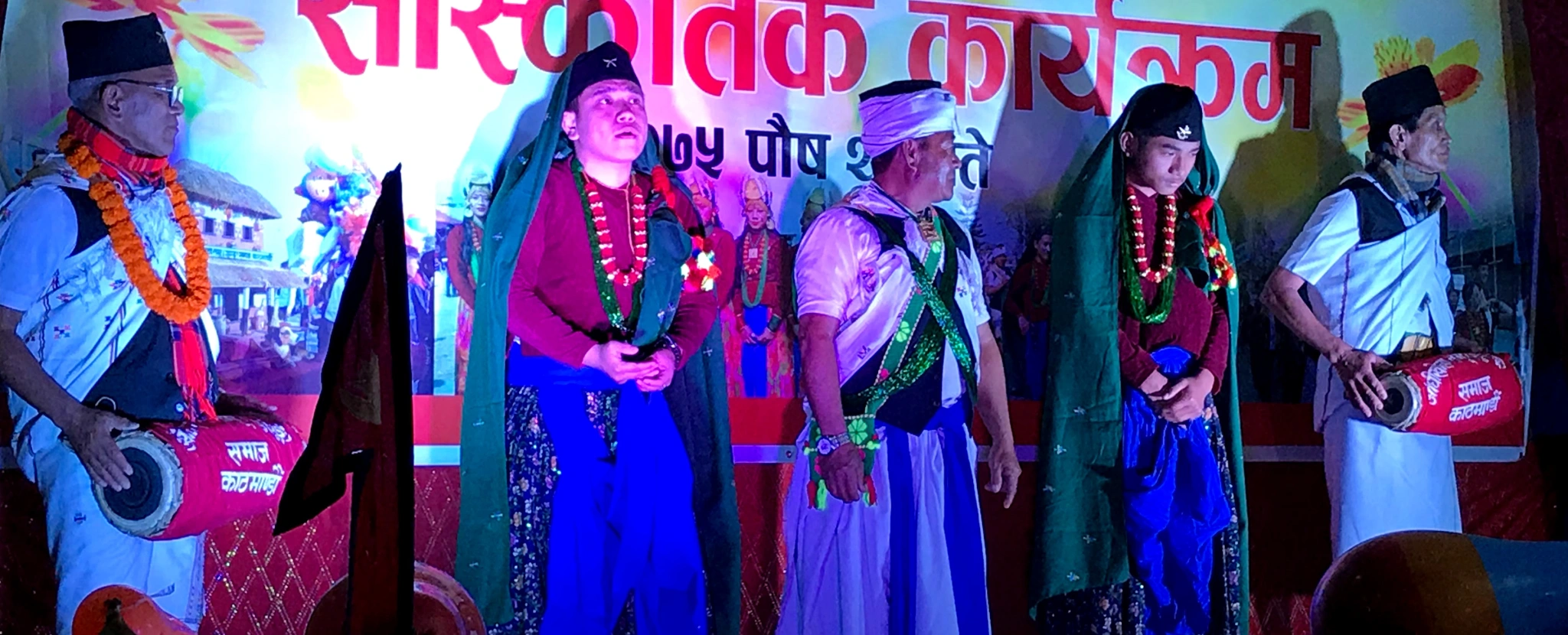 Dr. Stirr Receives NEH Grant for Nepali Music
Translating and Recording Central Nepali Folk Music
Dr. Anna Stirr, Associate Professor of Asian Studies and Director of the Center for South Asian Studies at UH Manoa, received a 3-year NEH Scholarly Editions and Translations Grant. She and her team will translate six volumes on Nepali folk music by Subi Shah, and record accompanying audio and video of performances. The volumes will be published open access in multiple formats by Open Book Publishers, with the audio and video recordings as an integral part of their presentation.
Subi Shah
Subi Shah (1922-2008) spent his life performing and teaching Nepali folk song, instrumental music, dance, and drama. He specialized in dance-dramas like Sorathi and Charitra. His books give a holistic account of how the arts of song, music, dance, and drama are interlinked in these broad traditions. From the hill district of Dhading in Central Nepal, his work focused on the genres and styles of his home region.
Project Team
The core international team that will collaborate on these translations and recordings includes Mason Brown (Lecturer, University of Colorado and Kathmandu University), Lochan Rijal (Chair, Kathmandu University Department of Music), Hikmat Khadka (Translator, US Embassy Kathmandu), Rita Thapa Magar (Folk Singer and Senior Vice President, Nepal Folk and Duet Song Academy), and Dhruva Shah (son of Subi Shah).
The project website contains more information and ongoing updates about the translation and recording work, Subi Shah, Nepali folk performance, and other important contributors.
ABOUT THE NATIONAL ENDOWMENT FOR THE HUMANITIES
Created in 1965 as an independent federal agency, the National Endowment for the Humanities supports research and learning in history, literature, philosophy, and other areas of the humanities by funding selected, peer-reviewed proposals from around the nation. Additional information about the National Endowment for the Humanities and its grant programs is available at: www.neh.gov.
Header image: Members of the Syangja Tamu Samaj perform the Sorathi dance drama in Kathmandu, January 2019. Photo by Anna Stirr.