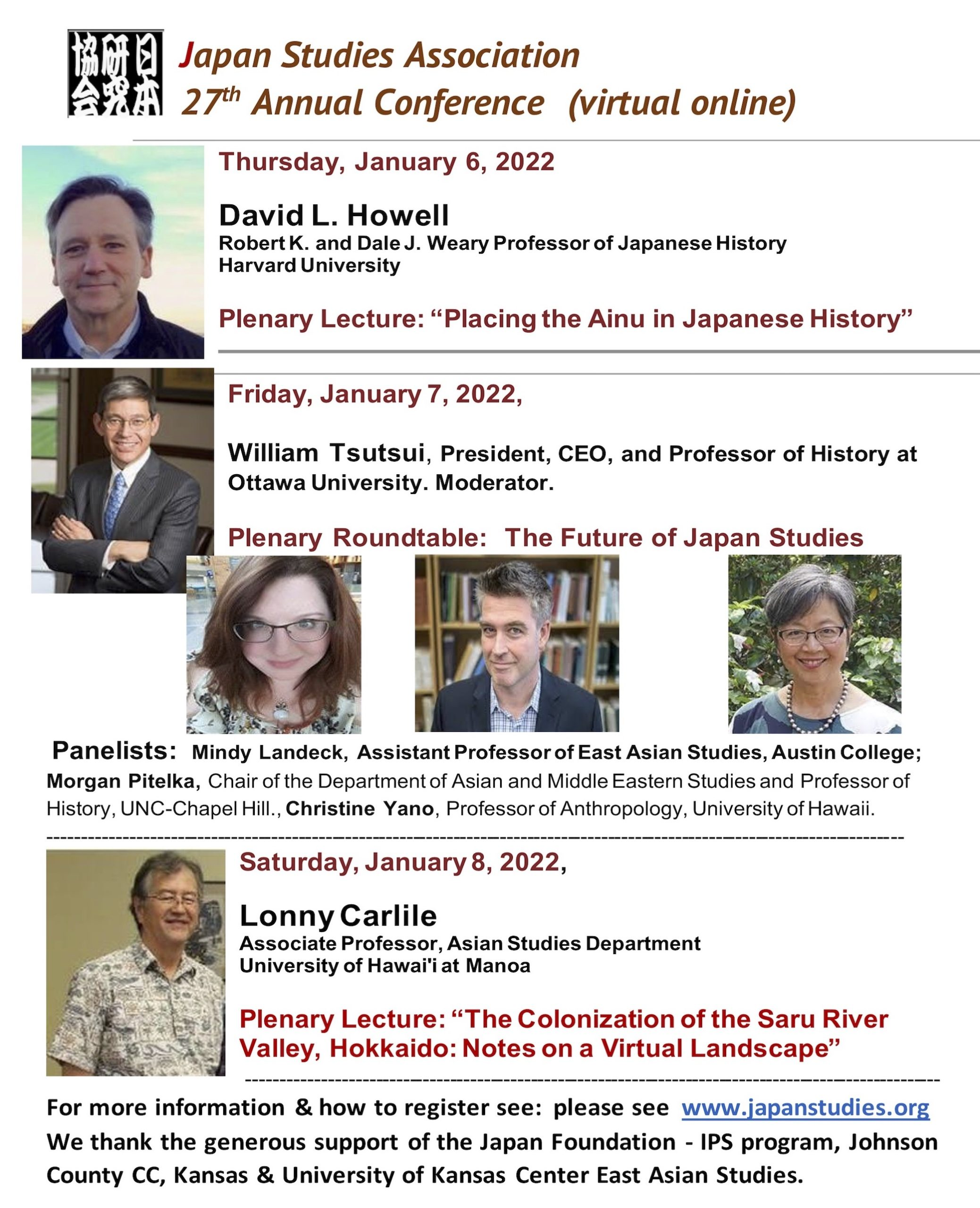 Dr Lonny Carlile Presents at Japan Studies Association
Dr Lonny Carlile will be giving a keynote speech at the Japan Studies Associa virtual conference, on Saturday, January 8.
Presentation Title: "The Colonization of the Saru River Valley, Hokkaido: Notes on a Virtual  Landscape"   

The Saru River Valley is home to the largest and most well-documented Ainu community in Hokkaido thanks to the tireless efforts of the late Ainu activist and Diet member Kayano Shigeru; the academic work of Japanese and Western anthropologists; a lawsuit that led to eventually led to official recognition of the Ainu as an indigenous people; and the recent designation of the area as a nationally recognized Cultural Landscape. In order to offer a better sense of how colonization unfolded in Hokkaido at the micro-level during the latter half of the 19th Century, the presentation will review key works that "map" the processes of colonization in the Saru River Valley and "project" these processes onto the valley's physical landscape.

Lonny Carlile, Associate Professor, Asian Studies Department, University of Hawaii, (Ph.D. Univ. of California Berkley) has most recently been director of U.H.'s  Center for Japanese Studies, and the principal investigator for a three-year Japan Foundation-funded project for advancing intellectual exchanges with Japanese Studies centers in Southeast Asia. His work and publications span a number of areas in interdisciplinary Japanese Studies. Dr. Carlile's leadership has been crucial to JSA's holding workshops in Fukuoka & Nagasaki (2008), Hiroshima & Nagasaki (2015), and Okinawa (2017). His current research focuses on the political economic history of Okinawa and Hokkaido.
Register for the conference to attend this plenary session, or discover more at the Japan Studies Association's website.