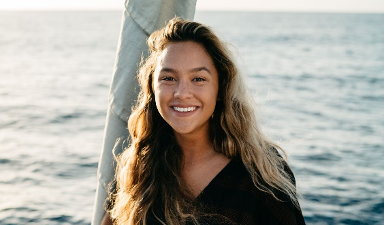 Congratulations Graduates!
Adeline Ruiz, B.A. December 2020
Asian Studies is proud to announce the graduation of Adeline Ruiz, BA in Asian Studies, December 2020.
Adeline started her college coursework one day shy of her 15th birthday, taking classes at Honolulu Community College as she worked to graduate early from high school. Three short years later, just after turning 18, she completed her BA in Asian Studies at UH-Mānoa with a concentration in history and literature of Asia. She maintained an excellent GPA while competing on the UH Sailing team, earning a UH Scholar-Athlete award in recognition of her hard work.
Adeline says, "I absolutely loved all courses relating to Asian Studies. My grandparents were raised in the Philippines and came to the United States in the early 60's. My grandpa told us he joined the U.S. Navy to get a pair of shoes. So, taking time to study in depth the history in so many surrounding countries was enlightening and truly improved my knowledge and understanding of the area. I'm so excited for the next chapter in my life. Hard work always pays off!"
Congratulations, Adeline!