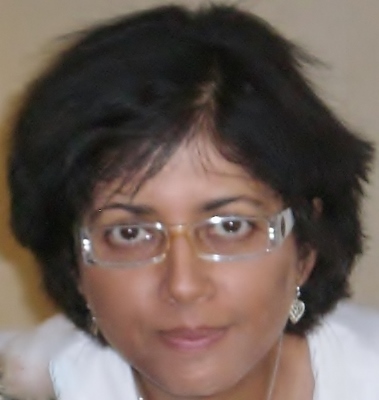 Assistant Professor
Department of Tropical Medicine, Medical Microbiology and Pharmacology
John A. Burns School of Medicine
651 Ilalo Street, BSB 320
Honolulu, Hawaii 96813
Telephone: 808 692-1331
E-mail: kalpana@hawaii.edu
Education
University of Minnesota, Twin Cities, B.A. 1979 – Physics
University of Texas, Austin, PhD. 1986 – Physics
University of Hawaii at Manoa, Honolulu, M.S. 2012 – Biomedical Sciences
Research and Training Background
Physics and Brain Imaging
Research Focus
Although increased longevity has been linked to a protective variant of the FOXO3 gene, the impact of FOXO3 on the brain is unknown. In a study of cognitively normal older individuals, we are investigating associations between FOXO3 genotype, aging-related differences in brain structure and function, and cognitive processes often impaired in healthy aging. Global and regional brain volumes, thickness of cortex, and resting-state functional connectivity are assessed by structural and functional magnetic resonance imaging (MRI). Brain regions affected in early Alzheimer's disease are of particular interest. Peripheral inflammatory markers and markers of cellular aging are also examined.
Personal Statement
Dr. Kallianpur's research interests include the use of magnetic resonance imaging (MRI) to study the effects of HIV on brain structure and function. She has demonstrated associations between brain atrophy and the peripheral HIV DNA reservoir, and is currently examining resting-state functional brain networks in relation to HIV-related cognitive decline and other complications of HIV disease. Dr. Kallianpur joined the Hawaii Center for AIDS in 2008 and the Department of Tropical Medicine in 2016.
Other Ongoing Projects
Identifying predictors of cognitive decline, Alzheimer's disease, and vascular dementia through analysis of longitudinal data from the Honolulu-Asia Aging Study.
Links to Publications