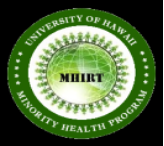 2021 GRADUATE Minority Health Research Training (MHRT) PROGRAM In Health Disparities at the University of Hawaii (UH)
Now Accepting Applications for Summer and Fall 2021
The MHRT Program provides directed reading coursework at UH Manoa where graduate level students (Masters and PhD) learn to conduct research at UH Manoa.
Graduate students conduct a 3 to 5 month research project.
Topics focus on health and health disparities locally.
PROGRAM BENEFITS
Quality experience in research
Stipend while conducting research: graduate students receive $2,110/month
Life changing research and cultural experiences
Earn up to 10 credits of directed research courses in the Summer and Fall semesters
WHO CAN APPLY
Students from all academic disciplines are encouraged to apply.
For more information contact:
The MHIRT program at University of Hawaii is funded through the National Institute on Minority Health and Health Disparities, National Institutes of Health Grant #2T37MD008636-08