"Mahalo piha, Mōʻī ʻo ʻEnelani …Eia mākou i kou kapa kai": Lā 5 ma Windsor
Na Kamalei Marrotte, undergraduate student, 'Ōlelo Hawaiʻi a me ʻIke Hawaiʻi
"Na wai hoʻi ka ʻole o ke akamai, he alahele i maʻa i ka hele ʻia e oʻu mau mākua" 
Who shall discredit knowledge when it is a path well trod by my ancestors.
Kalanikualiholiho 
Being so far away from home with very little to orient ourselves to our surrounding environment, we look to our kūpuna that have come before us and feel secure in the fact that we are following in their footsteps. 
Today we were received at the gates of the grand Windsor Castle by our tour guide, Gordon Ferguson from Windsor Castle's Learning Center and taken on a special walking tour of the castle. The Windsor Castle was founded by William the Conqueror in the 11th century and is the oldest and largest continually occupied castle in the world. In the time since the 11th century, it has been home to 39 monarchs, one of which was Queen Victoria. She spent most of her time at Windsor Castle during the time of her reign which was from 1837 to 1901. For the 50th celebration of her rule, a jubilee was hosted in London in her honor in which King Kalākaua was invited. Due to the death of Miriam Kapili Likelike (Mrs. A. S. Cleghorn), he was unable to attend but Queen Kapiʻolani was instead sent to respect Queen Victoria's invitation and honor her at what most of us know as "the Queen's Jubilee." Royal Jubilees are held to celebrate a monarch's 50 year milestones. Queen Victoria was only the second monarch known to celebrate 50 years on the throne by hosting a jubilee, second to King George III. This was the first and only Jubilee to be attended by Hawaiian Royalty and yet this was not the first time that Hawaiian Royalty had visited England. King Kalanikualiholiho and Queen Kamāmalu, Queen Emma, and King Kalākaua had all been to England before that of Queen Kapiʻolani and Princess Liliʻuokalani, and the relationship between the two countries of Great Britain and Hawaiʻi can be traced back to the time of Kamehameha I. This was reflected in their visit to England for Queen Victoria's Golden Jubilee in 1887. 
Queen Kapiʻolani accompanied by Princess Liliʻuokalani and their entourage of escorts, left Hawaiʻi on April 12th, 1887 to start their journey to England to attend the Jubilee. They made stops in San Francisco, New York, Chicago, Boston, and finally reached Liverpool in England on June 2nd, 1887. They met with Queen Victoria before the actual Jubilee celebration and was able to sit down and spend time with her like that of close friends. Liliʻu recalls that when they began to say their goodbyes for the night that Queen Victoria wanted her to meet her children. Her children were introduced to Liliʻu while Queen Kapiʻolani made her way outside. This to me, showed that although Kapiʻolani and Liliʻu were not the first Hawaiian Royalty to visit England, Queen Victoria hoped they wouldn't be the last. Liliʻu at the time was the heir to the Kingdom of Hawaiʻi which Queen Victoria then introduced to her children, the heirs of the British crown. Sadly Kapiʻolani and Liliʻu were the last Hawaiian Royals to visit England. The relationship between our countries have been nearly lost but being here in this foreign land, following in the footsteps of our aliʻi, our kūpuna, this land doesn't feel so foreign anymore. 
Researching about Windsor Castle is one thing but actually seeing the castle in person is another thing entirely. It was absolutely breathtaking. The attention to detail in every square inch of the castle was incredible to witness. As we entered the castle walls with Gordon, he pointed out the flag that flew overhead and stated that this particular flag tells us that the Queen is currently in residence on the grounds. We were all shocked and pleasantly surprised to hear that she was actually there in the castle. I couldn't help but think that in another lifetime, we would have possibly been received as delegates of the Hawaiian Kingdom and have met with the Queen. Instead we are simply viewed as American citizens rather than Hawaiians living in an illegally occupied nation subject to the laws of the Fake State of Hawaiʻi within the United States of America. 
Timeline of the Hawaiian delegation's journey to the Queen's Jubilee
Tues. April 12th, 1887 – Left Hawaiʻi for San Francisco
By way of ship named Australia
Wed. April 20th, 1887 – Arrive in San Francisco
Wed. April 27th, 1887 – Leaves San Francisco for Washington
Mon. May 2nd, 1887 –
Tues. May 3rd, 1887 – Arrive in Washington and stayed at Arlington Hotel
Thurs. May 5th, 1887 – Dinner hosted by President Cleveland
Fri. May 6th, 1887 – Visited Mount Vernon and Washington's grave
May 25th, 1887 – Left New York for London
Our visit today started at 6:30 am, with a 7:00 am train from Waterloo train station to Windsor. After breakfast and picking up lunch at Windsor, we met Gordon for our entry into the castle grounds. The team at Windsor coordinated the day for us to start with a Royal Archives presentation, followed by a guided tour of the castle and grounds.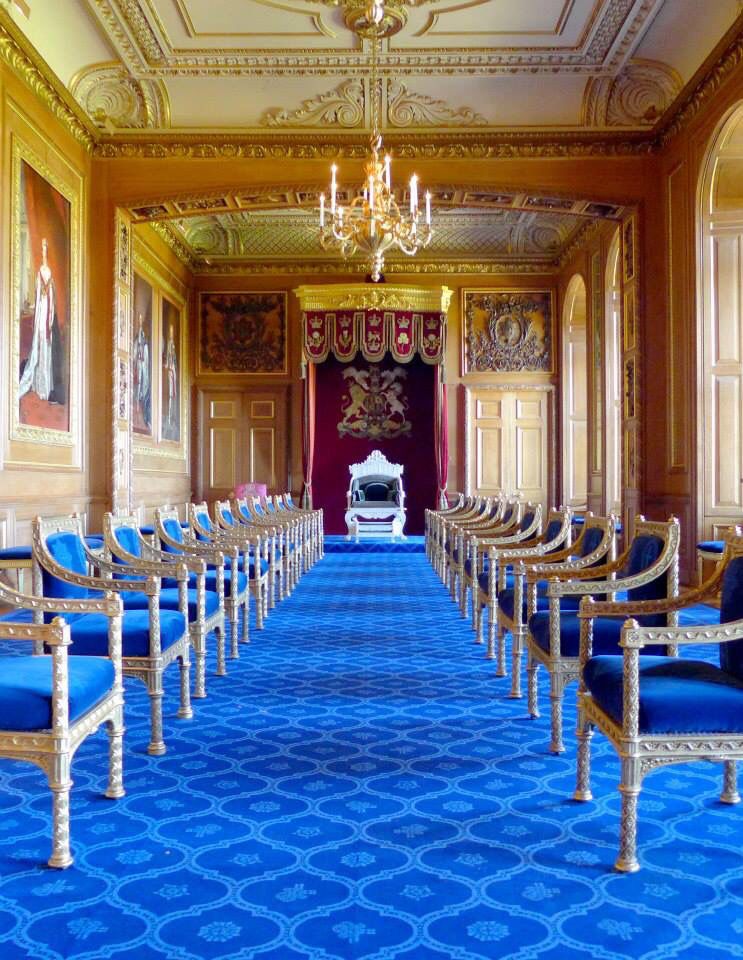 Allison and Bill from the Royal Archives staff presented to us a beautiful display of our precious materials for us in a roped off area of the Throne Room in the Castle. There were about 8 tables full of letters and correspondence between our aliʻi and theirs, stretching from Kamehameha I to Kalākaua and Queen Liliʻuokalani.
Our group, compelled with gratitude at the end of the visit, sang "Queen's Jubilee" for the team at Windsor Castle, as well as an oli mahalo.
Queen's Jubilee
na Liliʻuokalani

Mahalo piha, Mōʻī ʻo ʻEnelani
Kuʻi kou kaulana nā ʻāina pau
Na kai ākau nā one hema
ʻIkea kou ʻihi mana nui
Eia mākou i kou kapa kai
I kou lā nui Iubilī
I hiʻi mai i kou mākou aloha
Maluna ou ka malu o ka Lani 
Hauʻoliʻoli ʻEmepela o ʻInia
I kēia makahiki Iubili
ʻĀkoakoa nā aliʻi ʻaimoku
A puni ke ao holoʻokoʻa
E hi`ilani e mililani
Ua hui pūʻia me Hawaiʻi
E uhi mai ka lani i kona nani
E ola ka Mōʻī ke Akua

All hail to you, Great Queen of England
Fair Queen who rules over land and sea
From northern seas to southern shores
Your way is known both far and near
Welcome to your shores, gracious lady
On this great day of your Jubilee
To bring kind greetings from afar
May heaven bless you, long may you reign 
All hail, all hail, Empress of India
In this your year of Jubilee
Now kings, queens and princes great
Have all assembled here today
To pay due homage and reverent love
Hawaii joins with loyal fervor
May Heaven smile on you
God bless the Queen, long may she live