A Hero Unsung: Lā 2, British National Archives
Na Hilinaʻiikaponoaupunioumialiloa Sai-Dudiot, BA in Hawaiian Language and Political Science
In the hopes that they might reconnect to an identity from which they were several generations removed, Hawaiians of the 1970's and on sought to reintroduce integral aspects of their nearly-forgotten culture. Among these were the skills of traditional wayfinding embodied through Hōkūleʻa, the concept of Aloha ʻĀina fostered by Kahoʻolawe, and the Hawaiian language spurred on by the University community. As the Hawaiian Renaissance progressed, the knowledge of these fields, then thought to be ample, has since come to be seen as incomplete, elementary, or even basic, as larger bodies of knowledge have continued to come to light. Slowly but surely, our culture grew from detailed descriptions in old, dusty tomes to the daily practice of a dynamic and thriving people. We began to learn the names and deeds of our kings and queens. We had come to celebrate the symbols of our nation such as the Coat of Arms, Lā Hoʻihoʻi Ea, and Lā Kūʻokoʻa. Yet as far as our people have come, few of us truly know the history behind these pivotal events–fewer still are those of us who know the man who made it all possible; that man being the honorable Timoteo Haʻalilio.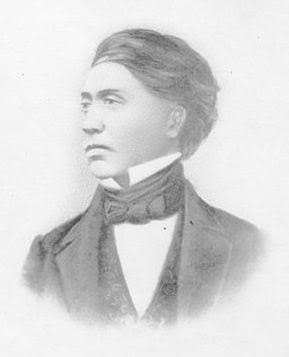 Born to ʻEseta Kipa and Kōʻeleʻele in Koʻolaupoko, Oʻahu, in the year 1808, Timoteo Kamalehua Haʻalilio would become one of the most influential people in Hawaiian history. In Haʻalilio's early years, his father passed away due to an unknown cause. Sometime after, his mother took another husband, Haʻaloʻu, with whom she would bore a second son, Levi Haʻalelea. After the passing of her second husband, ʻEseta had no choice but to assume his vacant seat as governor of Molokaʻi. At the age of 8, Haʻalilio was moved to Hilo, Hawaiʻi from Oʻahu to become a retainer for the house of Kamehameha. While living among the king and his children, Haʻalilio quickly formed a bond with the young prince, Kauikeaouli, which would last a lifetime. Thanks to his royal ties, Haʻalilio, at the age of 13, was chosen as one the first Hawaiian youths to be educated by the newly arrived missionaries. He, alongside, Kahuhu, John Papa ʻĪʻĪ, and Kauikeaouli, were personally tutored by Hiram Bingham in many subjects, including English, penmanship, and arithmetic. About Haʻalilio's schooling, Bingham had this to say: "[Haʻalilio], having naturally good powers of mind, and an aptitude to learn, whenever he gave himself the time and trouble for it, made very good attainments."
In the year 1826, at the age of 18, Haʻalilio married his long-time partner, Hannah Hooper, at Kīnaʻu's residence. He would also come to inherit a plot of land from Kīnaʻu called ʻŌhua, in Waikele, Oʻahu.
In 1839, Haʻalilio became one of the founding members of the Hawaiian Historical Society, whose mission it was to collect and compile oral histories from kūpuna into a comprehensive history. He was charged with gathering the story of Kamehameha Paiʻea. In the same year, Haʻalilio would also serve as a representative of the Hawaiian Kingdom during the Laplace incident. While aboard Captain Cyrille Laplace's ship, L'Artémise, he was noted as being an excellent diplomat with great tact, "pleasant countenance, and good manners." Knowing how effective his diplomacy was with the L'Artémise crew, it is no surprise that just a few years later, in April 8th of 1842 Haʻalilio, alongside William Richards and Sir. George Simpson, would become the special envoys commissioned to gain recognition of Hawaiʻi's independence from Great Britain, France, and America. Being that Haʻalilio was a close confidante and retainer of the King at the time, Kauikeaouli, there were few tasks which Haʻalilio would refuse at the Kamehameha III's request. This journey was one of those tasks. He begged Kauikeaouli not to send him, but due to the urgent nature of the mission, there was no other the king felt he could trust. Despite Haʻalilio's reluctance, he carried out his mission without flaw, and, according to William Richards, every moment Haʻalilio had away from his diplomatic duties was spent inspecting the schools, hospital, government buildings, libraries and every other facility which could potentially be of benefit to Hawaiʻi's infrastructure. Despite a long and arduous journey, they were able to secure our sovereignty from all the world powers, including Belgium, on November 28, 1843. Unfortunately, Haʻalilio fell sick during his time abroad. Upon the final leg of his journey home, he passed away at sea.
Although this great man left our world at the young age of 36, traces of his legacy can still be observed at the farthest reaches of the earth. Here in London, for example, one can catch a glimpse of Haʻalilio's daily life while abroad. The British National Archives in Kew is home to hundreds of correspondence and communications between the envoys, the British government, and the Hawaiian Kingdom. With each letter read, one could learn of Haʻalilio's favorite cafe, his daily outings, his declining health, his devotion to his lord and savior, his yearning to be once again in his mother's embrace, and his longing to behold once more his traveling companion's face. These many letters impressed upon me the sheer length and strain of his journey. Yet one document, I'd like to think, made it all worthwhile. As we walked through the archive doors, boxes, the contents of which were largely a mystery, were brought out to us. Out from one such box was pulled a small, red, nondescript booklet in relatively good condition. Much to my delight, bound between those crimson covers was the very agreement which reaffirms all of our current efforts: the Anglo-French Proclamation. This document, which is a tangible representation of our independence and sovereignty, reminded me of who I come from. I come from a sovereign, literate, politically-savy people. I feel that in such a tumultuous time for Hawaiʻi, Our people need this kind of reminder, and I know that HYA can be that reminder. Mahalo.