John Noble Kekoa "Илья" Campbell, Spring 2019
I was at University of Hawaii at Manoa until Spring of 2019 and graduated with a Russian BA and a German Minor. I was born here, but grew up on the mainland in Idaho for a number of years and came back for college! I have yet to leave the country, and plan on using my acquired language skills to travel and learn more about the world's cultures first hand. After satisfying my wonderlust I plan on working as a translator or analyst for our various government organizations.
---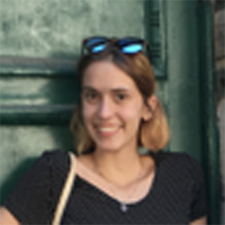 Katarina "Нина" Tatomirovic, Fall 2018
I graduated from University of Hawaii, Manoa, in the Fall 2018 with a dual B.A. in Russian and Philosophy. During my time at UH, I tried to seize as many opportunities as I could for both academic and professional development. In these attempts I did volunteer work throughout the semesters, tried to weave my majors together through a capstone project and conference, and interned in both of my fields. One without the other would not have been possible as is evident through the many times they came together rather unexpectedly in my undergraduate career. My capstone project in Philosophy used Russian Literary works by Gogol and dostoevsky to help explain my arguments on the creation of insanity in the individual and society: it was then picked to be presented at a conference at the State University of New York at Oneonta. During my internship in Philosophy for Children (Uehiro Academy) I was able to use my Russian to speak to a student who had not yet learned English. My internship and TA-ship with RUSSIAN@UH allowed me to help develop the program as we know it today (including the ever-growing social media presence), and foster the future Russian majors and certificate holders through my TA work in RUS 101 (Fall of 2018). My good standing and my work in and for the Russian Program also allowed me to become a recipient of the Wiswell Scholarship, without which I would not have been able to afford school. With my degrees and new-found professional experience, I am now going to do my MA in Human Rights Practice at the University of Arizona, where I will continue fusing my interests of Philosophy and Russian. This program provides venues for further language and professional development in Russia and Kyrgyzstan. RUSSIAN@UH has opened a plethora of doors for me to pursue my dreams. I am forever thankful to the support and encouragement of this academic program.
---
Ekaterina "Катя" Brown, Fall 2018
I plan to graduate from UHM in December 2018 with a major in Russian and a minor in Japanese. I am pursuing career opportunities in which I can use my knowledge and skills in these languages and cultures, either in government or private enterprises. Russian is my first language, although I had forgotten most of it; I was adopted at the age of nine from Kazakhstan by my American family and used only English for nearly ten years. I am excited to be learning about the culture and language of my ethnic Russian background. I have also been fascinated by Japanese culture since I was a teenager. I studied Japanese for four years in high school and spent two years living and studying in Japan. Additionally, I have expanded my cultural and political awareness by traveling extensively in other countries, including the United Kingdom, the United Arab Emitrates, Kenya, South Africa, the Czech Republic, Hungary, Croatia, Austria, Belgium, France, Spain, South Korea, Russia, Mexico, Venezuela and several of the island countries of the Caribbean with my family.  I believe that this broad experience of foreign cultures will be an asset as I move into professional work.
---
Thomas "Фома" Hall, Fall 2017
I graduated with a double major in Russian and Political Sciences in Fall 2017. I spent Fall semester 2016 in Vladivostok, Russia, as a Manoa International Exchange student, which propelled my Russian proficiency to an entirely new level. In Fall 2018, I started The Korbel School's Masters program in International Security Studies at University of Denver. After that, I hope to pursue a position in the Foreign Service's Diplomatic Corps. I am married and have a son and a daughter, and we are all learning Russian as a family.
---
Luba "Люба" Baydak, Spring 2017
During my undergraduate career at the UH Manoa, I was fortunate enough to take part in a number of associations, clubs, and programs. But the one that will leave the biggest footprint in my life is the Russian program. Because I am a heritage speaker, I entered in at the 202 level. The small class size allowed for maximum one-on-one time with the professor. This was especially beneficial because we had a visiting professor from Vladivostok, meaning her English skills were limited and we were to only speak in Russian. Because of this, my classmates and I learned quickly. During that semester, I also attended a couple of the club meetings and celebrations. The chair of the department encouraged me to consider pursuing a minor in Russian, and invited me to go study abroad over the summer at Vladivostok State University of Economics and Service. I was a little reluctant at first, because I had other plans due that summer, and quite frankly, I wasn't sure how any additional Russian classes would fit in my already overfilled schedule. But somehow things ended up working perfectly and I was able to go to Russia over the summer and take my additional required classes when I got back to the island. I was so fortunate to receive the Wiswell Scholarship, which helped me travel to Russia and have my expenses paid. Once I came back, I took a language course, this time at the 300 level. I also took a Russian literature course that introduced me to some of Russia's greatest writers. Throughout my last semester at UH, I actively participated in the weekly Russian club meetings. It was a great experience to meet new members, practice my Russian and learn new words. I was also introduced to an artist on island, Dr. Masami Teraoka, who was so fond of the Pussy Riot Movement that he decided to fly a couple of the Moscow artists to Oahu to direct a performance. At first, I was asked to translate emails, videos and letters to and from him and the artists. When they finally flew over, the director asked me to assist her during her time here. Translating and entertaining, as well as assistant directing a play was most definitely not what I thought I would ever be doing when I came to the program, but I am so glad I did. I've learned so much from that experience. And if it weren't for my connection to the Russian program, I would have never been able to experience that. The time and commitment that the faculty and students put into making the program a success is worth it, in my book. Without it, I would have never had the many opportunities that I encountered during my time at UH. Not only did I acquire a lot of knowledge about the culture and language, but I was able to make the greatest friends not only here on island, but on the other side of the planet. How many people can say that about a program?
---
Michael "Миша" Corsi, Spring 2017
My name is Michael Corsi and I received my certificate in Russian Studies after two years of studying the Russian language at UH. I also graduated with  an MA in modern Russian History and I am currently applying to Russian History PhD programs throughout the country. In order to do so I must attain written and spoken proficiency in the language. My research includes the 1910-1911 Great Manchurian Plague, which devastated the Russian Far Eastern frontier, affecting up to 60,000 fatalities and prompting the formation of an international response committee. So far, I have been fortunate enough to travel to the Russian port city of Vladivostok on the LLEA Departmental Scholarship to both gather primary source material for my topic and to accelerate my language training. In Spring 2017, my essay "Treating Plague, Regulating Bodies: Health Regimens in the Russian Far East" won the History Department award as Best Research Paper for this year! The paper, which resulted from my Vladivostok trip, became a chapter of my MA thesis in History. I enjoy Russian history, literature, and culture and have thoroughly enjoyed my time in the Russian program at UH Manoa. The Russian Program and its faculty have provided me with numerous skill-building opportunities to practice my spoken Russian with those of native fluency. I will always remain grateful and indebted to the department for its help in establishing my career.
---
Dylan "Дима" Custodio. Spring 2017
I graduated from the University of Hawaii at Manoa with a Major in Russian. Learning Russian had been a goal of mine since I was young and I finally had the resources to do so at UH. My goal is to work as an epidemiologist in the Center for Disease Control and Prevention (CDC) or the World Health Organization (WHO), a career where being fluent in another language, especially one as critical as Russian, would be an indispensable tool. I got Wiswell Scholarship to study Russian in Summer 2016 on a study abroad Program in Vladivostok, Russia.
---
Emily "Эмилия" Norman, Spring 2017
I was minoring in Russian because I grew up in Alaska, a former territory of Russia, and had always been interested in Russian culture as a result. I love to revisit old Russian artifacts back home and be able to read the Cyrillic writing on them. Russian can be used as a means of communication throughout the Eastern bloc. As a world language, Russian will also further my career opportunities and allow me to communicate with more and different types of people.
---
Olivia "Оливия" Le Coque, Spring 2015
I was raised in a bilingual household speaking English with my father and Russian with my mother, who emigrated from St. Petersburg in the early 1990s. Being a heritage speaker was always a blessing, but I had not fully realized this until my college years. Since becoming a Russian major, I loved practicing my skills in Russian as well as learning about and attending several events encompassing Russian history, literature, and culture. One dream that I have always had is to travel to Russia and learn about where my family came from. I have always been interested in travel and politics, which in turn has fascinated me with the diplomatic world. Someday I would love to become a diplomat or a consule in the Russian Federation Embassy. As a recipient of the Ella Lury Wiswell scholarship, I have been blessed with the opportunity of getting my Russian degree and working towards these hopeful goals. I have dreamed of finding what really makes me happy and excited for the future, and I believe I have found it in Russian studies. I hope to continue on this path and better my knowledge of my Russian heritage and language.
---
Pisey "Поля" Keo, Spring 2015
I majored in Psychology with a minor  in Art, as well as received a Certificate in Russian. I was first interested in learning Russian because my uncle speaks Russian and I thought it was fascinating.  When I came to UH Manoa, I decided to study Russian and I found it to be a very challenging  and interesting subject. As an undergraduate student, I wanted to take the chance and go study abroad in Russia. Thanks to Wiswell Scholarship, I was able to fulfill this wish by going to live and learn in Vladivostok, Russia, in Spring 2015. I was very excited to learn to navigate in Russian culture because I want to return to Russia in the future and live and work there.
---
Maica "Майя" Knisely, Spring 2015
 After high school, I studied abroad in Russia for a year and my life was changed! I fell in love with Russian culture and language. Ever since then, I've been searching for the right program to further my academic journey. The Russian Program at UH Manoa was the perfect fit for me. There were so many opportunities to engage with cultural and linguistic aspects of Russian life. The Wiswell Scholarship was essential in assisting with the financial burdens we face as students. It not only aided with my tuition but also afforded me the opportunity to study in Vladivostok for a semester in Spring 2015. Here is my blog about our adventures in Vladivostok with  almost daily updates.
---
Shayne "Яша" Matsuda, Spring 2015
The Wiswell Scholarship has significantly impacted my life in a positive way. It gave me the opportunity to continue to study a language that I fell in love with since I took my first Russian class at the University of Hawaii. As stated by the Department of State: "Russian is one of the critical languages" to learn. In addition to getting my Political Science degree as well, the Wiswell Scholarship opened up more job opportunities for both the Federal Government and private firms. The funds that Ella Lury Wiswell left enlarged my understanding about Russia and Russian culture, especially the numerous Russian Club meetings and parties that the UH Russian Program hosts. I would like to express my warmest mahalo (Hawai'ian for thank you) to both the late and generous Ella Lury Wiswell and the Russian Program for giving me the opportunity to pursue an occupation that would potentially make a significant impact in our contemporary society.
---
Daniel "Данила" Schulz, Spring 2015
I had a great experience studying Russian as a Russian Major at UH Manoa. Learning a second language had been something I've wanted to do for a long time and was both a personal and professional goal of mine. Studying abroad in Moscow the summer after my freshman year definitely gave me a new perspective on Russian language and culture. I encourage anyone who's interested in learning about European languages and cultures to look into Russian as their language of choice.
---
Constance "Констанция" Nicks, Spring 2015
I recently got my Masters in Linguistics as well as a Certificate of Russian from the Russian Department at UH. My interest with Russia began in my freshman year Political Science class. I was mesmerized by the photo of Boris Yeltsin standing on top of a tank declaring to the people of Russia that "this" is how the country was going to run from then on. While knowing the political history of a country is great knowledge to have, knowing the language of that country's people is how bridges are created and mutual understanding achieved. During my third year of my undergraduate study I was afforded the opportunity to study abroad at The University of Tartu in Tartu, Estonia, and obtain a Certificate in Russian Studies. For my MA project, I was working with the Russian-speaking community on Oahu researching the level of Russian that is spoken here. I do not have just one particular interest regarding Russia; I delight in every facet of the culture, people, and language. My interest in Russian is not a passing season in my life; I know it is what I will continue to study the rest of my life.
---