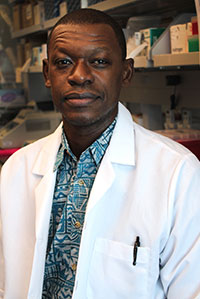 Associate Professor, Dept. of Tropical Medicine, Medical Microbiology & Pharmacology
Director, Laboratory of Molecular Immunology and Infectious Diseases
Investigator, Hawaiʻi Center for AIDS
After his completing medical training, he received his PhD in Immunology at the Tohoku University (Sendai, Japan), and completed his Human Immunology postdoctoral fellowship in the laboratory of Dr. Douglas Nixon at the San Francisco General Hospital – University of California, San Francisco (UCSF) before joining the faculty at the University of Hawaiʻi. He is currently the Principal Investigator of the Laboratory of Molecular Immunology and Infectious Diseases, and his research focuses on identifying novel applications and balancing strategies to prevent, slow, or eliminate HIV infection while optimizing quality of life. He has numerous grants from the National Institutes of Health to advance these strategies in persons with early infection or after long-term antiretroviral therapy. One approach investigates a novel glycoprotein, which can reactivate and disable the HIV virus in the central nervous system, an important hiding place for HIV. His lab is also researching how to clear the virus by restoring the HIV-disabled immune system's killing function. He and his lab intend to research and study these two approaches to cure HIV infection.
Dr. Ndhlovu has received several HIV related funding awards and grants including the Creative and Novel Ideas in HIV Research (CNHIR) award presented by Dr. Françoise Barré-Sinoussi, Nobel Laureate and HIV co-discoverer. He currently serves as the Prinicpal investigator on a 5 year – NIH-funded R01 to investigate HIV reservoirs and inflammation in the central nervous system.