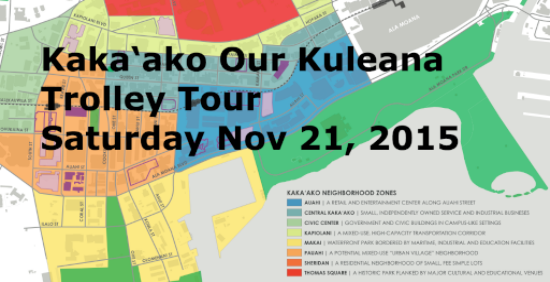 Kaka'ako Special Trolley Tour
Saturday November 21
(9 a.m. – 12 noon)
One-hour trolley tours of Kaka'ako Community Development District and its 7 neighborhoods of the Mauka Area and the Makai shoreline. The tour will highlight the diversity of the district, some of the current and proposed projects, and areas of community concerns.
Tours will begin at 9:00, 10:00, and 11:00 am starting at Kaka'ako Agora at 441 Cooke Street, Honolulu.  Please arrive at Agora at least 10 minutes prior to tour departure.
Seats are limited. Registration required.
9:00 a.m. (RSVP)
10:00 a.m. (RSVP)
11:00 a.m. (RSVP)
Mahalo to our co-sponsor American Planning Association – Hawai'i Chapter and to Interisland Terminal for supporting this event.
This tour is part of Kaka'ako Our Kuleana: A Free Urban Planning Academy for Everyone.