View the videos on our GET Local YouTube Channel
Sweet Potato Mochi (Upper Division Winner)
View the video for instructions
Ingredients
* 1 cup sweet potato
* 2/3 cup mochiko
* 1/3 cup sugar
* 4 large ti leaves
* butcher's twine
* oil
1. Wash sweet potatoes and ti leaves. Place sweet potatoes on a steamers rack into a pot with some water.
2. Cover the lid and cook on low heat until the potatoes are soft enough to poke with a fork (about 30 minutes).
3. Use scissors to cut the ti leaves in half.
4. Once cooled, cut the ends off the sweet potatoes then peel.
5. Place the sweet potatoes into a bowl and mash with a potato masher to about 1 cup.
6. Fill 1 cup measuring cup with mashed sweet potato.
7. Fill 2 cups of mochiko (level) and pour on top of the sweet potatoes.
8. Add 1/3 cup sugar (optional or to taste) and Mix well
9. Take 1/2 ti leave (shiny side down) and brush with a little oil to ensure it doesn't stick.
10. Using about 1/8 of the mixture, form a small elongated ball and place in the center of ti leaf.
11. Enclose the ball in the ti leaf and tie using the twine, closing the side to make sure it fits and is completely covered. Tightly knot the twine
12. Repeat with the remaining mochi and ti leaves
13. Place the wrapped mochi into the steamer pot, cutting off any excess ti leaves
14. Steam for about 30 minutes
15. Remove the twine and open the ti leaves
Lawai Prawn Pasta (Lower Division and Seafood Winner)
View the video for instructions
Ingredients
* 8 oz pasta, cooked according to package directions , save 1 cup pasta water
* 1# prawns
* 1 tablespoon plant based butter
* 1/2 onion, diced
* 3 cloves garlic, minced
* 2 Kamuela tomatoes, diced
* 2 cups spinach
* 3-4 basil leaves
* 1/2 lemon
* Salt and pepper to taste
1. Cook pasta according to package directions and set aside reserving 1 cup pasta water .
2. Place prawns in boiling water for 1-2 minutes until the shells turn red.
3. Remove the prawns from the cooking water and cool.
4. Peel and devein the prawns. Set aside.
5. To a sauté pan, add butter, onion, and garlic. Cook until the onions are soft, about 3-5 minutes.
6. Add the tomato, spinach, noodles, and pasta water. Stir to combine.
7. Add the prawns, basil and lemon.
8. Season to taste with salt and pepper.
Zucchini Meatballs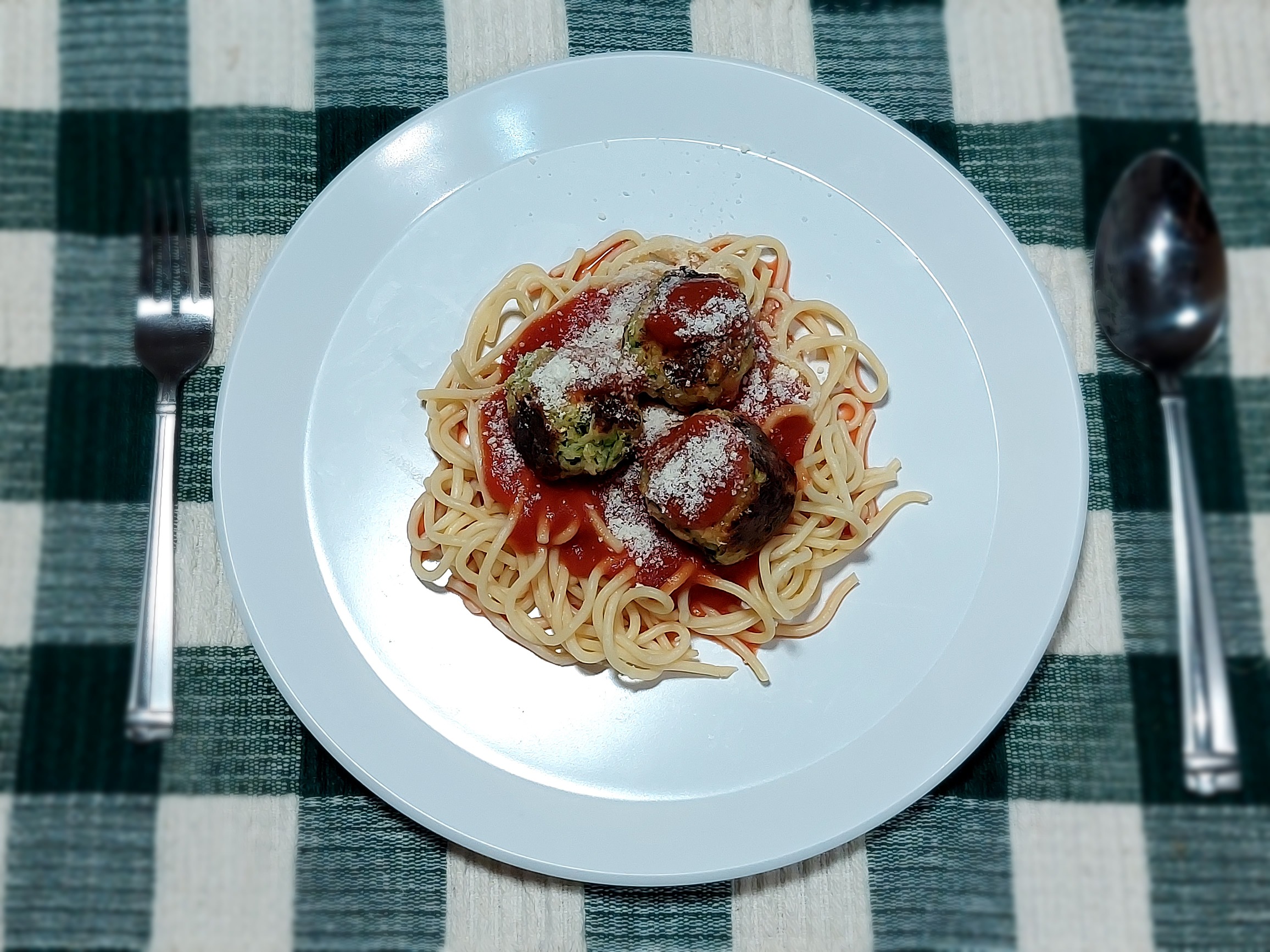 View the video for instructions
Ingredients
* 3 medium sized zucchini
* 3/4 tsp minced garlic
* 1 beaten egg
* 1 cup panko bread crumbs
* 1/2 cup Parmesan cheese

* some Salt and Pepper for taste
* 1 tsp Italian seasoning
* olive oil
* Your favorite spaghetti sauce and cooked pasta
1. Wash zucchini thoroughly
2. Cut the ends of the zucchini
3. Line a bowl with a clean towel
4. Grate the zucchini into the bowl (one at a time)
5. Grab the sides of the towel and squeeze out all the liquid from the zucchini
6. Place dried zucchini into a new bowl
7. Repeat the grating and squeezing for the other two zucchini (one at at time)
8. Empty the liquid from the bowl and place all of the squeezed zucchini into that bowl
9. Add salt to taste and to remove liquid
10. Beat up 1 egg in a separate bowl then add it to the zucchini
11. Add all the remaining ingredients (except oil) into the zucchini
12. Roll zucchini mixture into meatball shapes (about 12)
13. Head a pan to medium or medium high
14, Add oil then place the zucchini balls into the pan
15. Brown on all sides
!6. Remove cooked zucchini to a bowl
17. Serve with pasta or eat by itself
Farm to Table Yogurt

View the video for instructions
Ingredients
* 2 gallons of milk
* 1 cup plain yogurt starter
1. Bring 2 gallons of milk to near boiling (185 degrees). (You can use the boil function on an instant pot, or the sous vide function set to 190 degrees.)

2. When milk is at 185 degrees, cool in an ice bath to 108-112 degrees.

3. Add 1 cup plain yogurt and whisk into the milk.

4. Keep the milk at approximately 112 degrees for 8 hours. (This can be done by pressing the yogurt function on your instant pot, or set the sous vide temperature to 112 degrees for 8 hours.)

5. You can eat the yogurt as is, or drain the excess whey from the yogurt using cheesecloth or nut milk bags. Sweeten as desired with honey, jam, or sweetened condensed milk.

6. For parfait add 1 cup of fruit or berries and layer with yogurt.

7.For smoothie add 1 cup of juice of your choice to the fruit and yogurt and blend.