Arroz Caldo with Pork
Ingredients
1 Tbsp unsalted butter (or vegetable oil)
½ cup white onion, chopped small
1 Tbsp minced ginger
1 Tbsp minced garlic
1 cup white rice, uncooked
2 cups chicken stock
1 cup water
1 Tbsp lemon juice
1.5 Tbsp fish sauce
1 tsp kosher salt
½ tsp ground black pepper
¾ lb. pork shoulder or butt, cut into 1" cubes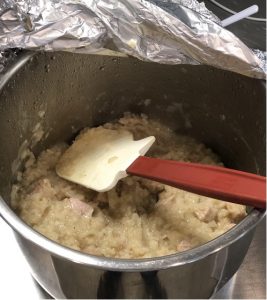 Directions
Set the Instant Pot to "Saute / normal" function and heat the butter (or oil). Add in the ginger, garlic, and onions and cook for about 2 minutes just to sweat them and bring our aromatics, then add the pork..
Press "cancel" and then toss in your uncooked rice and coat in the ginger, onion, and garlic mixture and stir till the rice is evenly coated.
Then add in the remaining ingredients to the pot and stir to make sure nothing is stuck to the bottom and the ingredients combine and are evenly distributed
Cover the instapot and then make sure the vent is on "seal". Turn on the "soup / normal" setting and cook for 22 minutes.
Once cooked, quick release the pressure and allow it to vent fully before opening.
Open and stir lightly. Serve immediately.
If consistency is too thick, feel free to add more water or chicken stock to your preferred consistency. Add additional liquid by the ½ cup into the pot and stir.
Optional: Garnish with green onion, fried garlic, or black pepper to taste.