The Hawaii 4-H State Virtual Cooking Contest is now accepting registrations for participation (deadline May 12th). Videos will be submitted May 24th. Your goal is to create a video featuring a local commodity (plant or animal) that demonstrates the successful completion of a healthful recipe. Youth in Hawaii in grades 5-12 are eligible to compete, whether or not they are currently a 4-H member. County winners will be selected to compete in a state competition.
Eligibility: Grades 5-12 in Hawaii
4-H Member Requirement: No
Cost: No cost to participate
Registration Deadline: May 12, 2021
Video Submission Deadline: May 24, 2021
Registration Link: http://go.hawaii.edu/AD6
Rules and Guidelines: http://go.hawaii.edu/AEf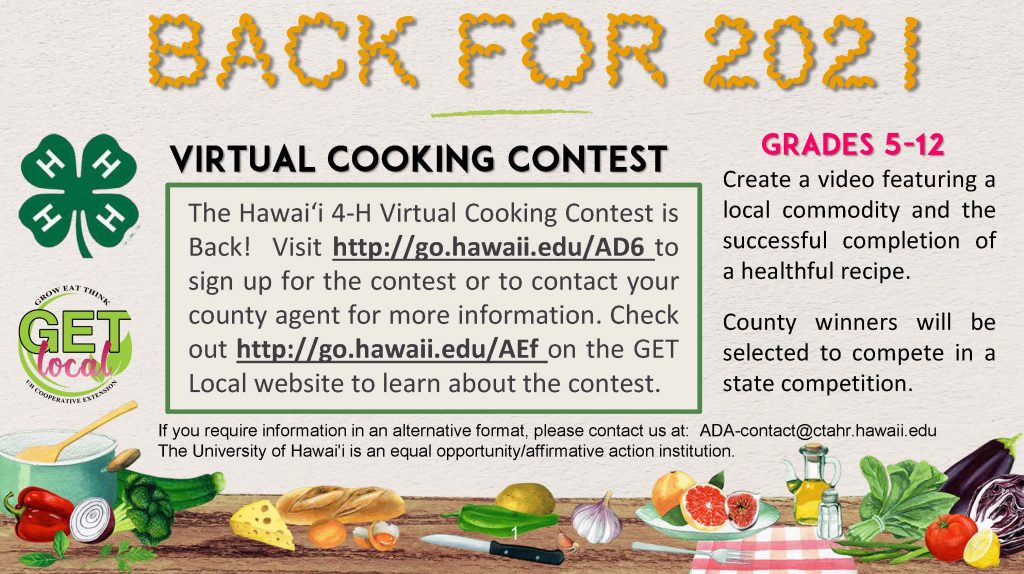 Are you ready for the challenge?! You will need to register to participate in the contest. Visit the 4-H Cooking Contest page to sign up and the contest page for more information and resources.